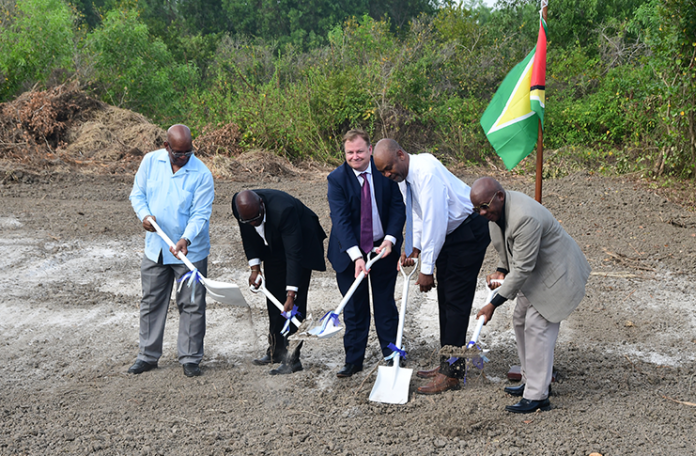 – investment includes miniature golf course, solar farm
By Navendra Seoraj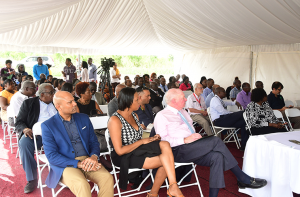 IN response to the demand for accommodation amidst a growing economy, Energy Real Estate Solutions (ERES) and the Caribbean Marketing Enterprises Incorporated (CMEI) will be constructing a US$100 million Hilton Hotel at Ogle, on land which was once owned by the Guyana Sugar Corporation (GuySuCo).
Cognisant of the growing tourism industry here and the influx of investors and visitors due to the local oil and gas sector, the CMEI has set out to establish a state-of-the-art facility, which will include all the necessary amenities. The CMEI team headed by Guyana-born, Edmond Braithwaite, will be constructing a flagship hotel which will include a miniature golf course, a clubhouse, an entertainment centre, a swimming pool and a solar farm. The land for the hotel was acquired from the National Industrial and Commercial Investments Limited (NICIL).
"The hotel will add to the portfolio of the green economy with the use of solar energy, by way of a solar farm and a green space…I am also looking forward to the other amenities which will accompany the hotels and the influx of guests and visitors that will follow," said Minister of Finance, Winston Jordan during a sod-turning ceremony at the potential construction site, on Wednesday.
The investment is an indication of trust in the local economy, said the minister, noting that it will create jobs and even build the capacity of the locals. It is also happening at a time when Guyana is becoming a renowned ecotourism destination. Tourism and hospitality is an important part of government's agenda and an 'important' contributor to local economic growth.
"So this is a momentous occasion which seems simple, but it is momentous for the government…in the last four and a half years this government has endured many things, a very tiny bit of it due to our own making, but a lot we inherited.
"We want to turn the inherited into rose-smelling events…when you were locked out for 23 years, you pretend you know what is going on, but you don't know until you get in," said Minister Jordan.
For instance, the minister said no one knew that GuySuCo- the previous owners of the land where the hotel will be built- was broke. There was $89 billion in "red ink," he said. The coalition government had to find $12 billion and a further $36 billion to keep the sugar industry afloat. Considering the turmoil in the sugar industry, government had to also take drastic measures which included reducing the labour capacity at the various sugar estates. Government has since embarked on a project to restructure the industry through innovation and prudent investments.
As part of the "restructuring" of the industry, GuySuCo-owned lands were handed over to NICIL, lands which are now being leased and sold for various developmental projects.
"Sugar is experiencing withdrawal symptoms…it is tough but you have to take bold measures that will clean out your system and bring you back to being a responsible member of society…sugar was profitable in the days, but it is asking for help and the medicine has to be one that will bring it back," said Minister Jordan, noting that the diversification of the industry seems to be working.
Citing the potential construction of the hotel as an example, the minister said: "a new community will rise from the swamp and ashes…Guyana is on the rise and Guyana is open for business, we are not discriminatory, we will welcome both foreign and local investors."
CEO of NICIL, Colvin Heath-London said confidence in the local economy is contagious and the investment was testimony to that. "The unbelievably humongous scale of these stunning developments, coming so quickly one after another, has surprised and or terrified the faint-hearted among us," said Heath-London, noting that it was the second for three major branded hotels in one week.
He said the agency is confident in its ability to make strategic decisions which are in the best interest of the country.
Speaking about NICIL's ability, Heath-London said: "These were all reflected over the last two weeks when we sealed several multimillion dollar deals with our international partners changing the physical and social landscape of our country; modifying global perceptions of Guyana; and will create hundreds of temporary and permanent jobs for local families in our exciting quest of national development.
"We must be mindful that out transportation, food in relation to farmers, agro- processors, hospitality and other important sectors must be put on guard as there are numerous opportunities that with the construction of these two additional hotels willing to bring to Guyana."
NICIL plans to "tolerate" investments in ambitious, "high-end" enterprises. And, so far the Guyanese Diaspora continues to contribute to local national development. Instead of doing it solely through remittances, they have added world-class hotel investments as a demonstration of their long-term commitment.
CMEI's Braithwaite continues to campaign among overseas-based Guyanese and wealthy foreign entrepreneurs to invest here. Braithwaite is very cognisant of 'giving back' to a nation that contributed to his development in the past. And, as such, he intends on giving back through interventions such as grants to educational institutions, scholarships, fellowships and mentorships to the people of Guyana.
"Overseas-based Guyanese, such as Mr. Braithwaite, have not abandoned their love or their commitment to helping develop their motherland. Mr. Braithwaite and the CEMI team have been visiting here constantly, seeking opportunities to spend money," said Heath-London.
CEO of Energy Real Estate Solutions (ERES), Mike Elliot also confirmed that CMEI has agreed on a social programme for locals, which includes offering grants to educational institutions and scholarships. ERES is a real estate services, investment and development company headquartered in the United States with 7 offices internationally.
"We are focused on emerging markets throughout North and South America with an emphasis on energy markets; and are currently working on several projects in the Caribbean Basin region.
"This is a very exciting project for our team. As you have heard, the process to get to where we are today has been a long one. Although the approval process was extremely difficult, we appreciate the professionalism NICIL has brought to the project and we have enjoyed working with Colvin Heath-London and Racheal Henry," said Elliott.
It is the company's vision that this site will be a focal point for the Ogle area and will be the ground for a well-designed, mixed-use commercial project. The company anticipates two internationally flagged hotels with associated amenities.
"We will also be seeking office and retail users and will develop several build-to-suit properties to ensure a well-balanced project. It is our hope that this development activity will not only help in the growth of the tourism market of the county but fill the demand of the business and population growth currently taking place," said Elliott.