— Mervyn Williams tells large Bartica rally
By Gabriella Chapman
BARTICANS turned the Bartica Community Centre Ground into a sea of green and yellow when the APNU+AFC elections rally rolled in the green town on Friday night.
And just before the presidential address, adviser to the Minister of Indigenous People's Affairs, Mervyn Williams, urged the gathering to place their trust in President David Granger because of the unprecedented developments Region Seven and Bartica have experienced in the last four years.
He said the President is a servant of the most high and with a supportive First Lady by his side, he can competently serve the people of Guyana.
Barticans were reminded of the many crimes and murders that were experienced under the previous administration, particularly the Bartica massacre that claimed 13 lives in February of 2008.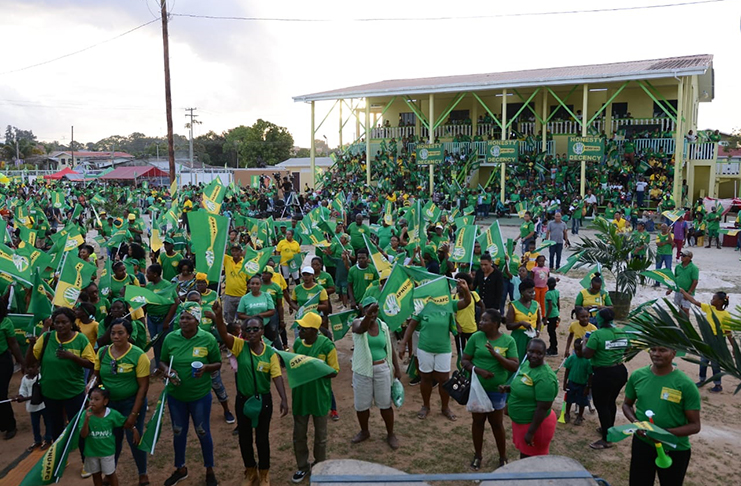 "In 10 years, over 1400 people were murdered while Dr Doom (Jagdeo) was hiding from the crime that he brought to Guyana. But you can trust President Granger based on his records, for I tell you tonight that not one single extrajudicial murder took place in the last four and a half years. Our President has made our country safer. You can trust him with your security," Williams said.
The people were also reminded that under President Granger's leadership, there were many infrastructural, health care and educational developments in Region Seven.
"Roads in region were fixed, connecting Bartica with Issano landing and Mahdia. Never fixed in 23 years but fixed in four. We built new roads in Region Seven; it links Kamarang, Waramadong and Kako. We never had that before but we got it in four. We built new primary schools in Kamarang, in Paurima and Kako, in Imbaimadai, in Iteringbang.
We're building a special needs school for special needs children right here in Bartica. Science lab, home economics department and dormitory built at Waramadong. Doctors quarters in Isseneru, Imbaimadai and Kamarang. Ambulance on the road and ambulance on the water and there are 26 young people training to be community health workers," he further informed.
In addition to the tangible developments, Williams said the Opposition is claiming that the coalition did nothing for the hinterland communities, particularly the indigenous people.
LUDICROUS
This, he said, is ludicrous since the evidence shows the transformation of the lives of the people as well as the community in which they reside.
"The only President to ever appoint a vice-president of Indigenous extraction was David Granger. No other president in this country's history ever appointed four indigenous people as ministers of government, five indigenous Members of Parliament, which accounts for 15 per cent of the parliamentary seats," he pointed out.
Adding, too, that under the flagship programme, Hinterland Employment and Youth Services (HEYS), the government invested $2B in the development and training of youths in the hinterland.
"We have trained over 4,000 hinterland youths and they have established 2,500 small businesses and are employing people… Region Seven benefited from an investment of $205M in HEYS, touching 25 villages. We have done it before and will do it again," Williams exclaimed.
He noted that it is on the coalition's agenda to continue investing in youths, post- March 2.
"In second term he will invest $3B in HEYS programme, training another 4,000 young people and the investment in Region Seven is likely to amount to $325M… He (Granger) has delivered and will continue to deliver because we will re-elect him. When he says he is married, you can trust him because the evidence is there. When he says he is qualified, you can trust him because the evidence is there. When he says he will improve education delivery, you can trust him because the results speak for itself. When he says he can improve health care, look at Bartica hospital," Williams told the gathering.
The people were raving with excitement as every speaker graced the stage. They were treated with an after-show after the formal programme concluded.