Part 1
RECENTLY, I attended two days of a three-day engagement with UNESCO representatives, Mr Sydney Bartley and Mr Yuri Preshkov. A three-day conference; 15, 16 and 17 October with the Director of Culture in the Ministry of Social Cohesion Tamika Boatswain and Ms Nirvana Persaud of The National Trust. It was required that participants contribute a condensed narrative of what they expect from a functional 'Cultural Policy' in the Guyana context. Creative minds do not yet understand that such a policy has long been divided along political lines as well as the very ambivalence towards its value and necessity as empowerment in the national consciousness. The following is the contribution with brief, added relative information.
Cultural industries, from concept to creation, with its unique marketing is constrained and regimented against national borders by a functional external system long in place, that constitutes from inception state-of-the-art preparations, image, sound or taste, depending on what is produced, to adequate distribution; the latter is the most potent factor, because Cultural Industries are economic endeavours.
As a writer and illustrator, with an institutional memory of production of some 34 years in the local market with success, not so much financially, but with product acceptance. I was restrained by self-financing, self-distribution and no government and financial institutional philosophy of how to interpret and embrace the potential of a new creature (its creative potential) not inherited as an economic potential from the colonial past. I do recognise that in any new, emerging C-I framework, of a national policy enveloping a full endorsement of 'Cultural Industries' will demand the government to engage in 'Business' — the business of using our history as a practical guide. Upon Emancipation, our ancestors were bound to extend a four-year period of, from 1834 to 1838 of what was termed 'Apprenticeship' that was, in all reality, an elusive allegory for a 'Subvention of Labour' to the very plantation owners (may God, through our forgiveness, save our certified historians, that keep repeating this apprenticeship foolishness, staying loyal to the deceptive symbolic vocabulary and not to the mockery itself).
The business of government and cultural industries for Guyana must revolve in the contracting of experts from the Region and beyond, both of whom will assist in awakening the awareness needed to develop an informed perspective towards the value of a progressive cultural policy with its legal framework to launch the economic sector of cultural industries, to our appointed leaders and to the general public with whom such an industry will have to be in constant engagement. The UNESCO presentation has mapped the areas with precedents in the rest of the world. To engage and negotiate the 'distribution' factors to bridge where small producers with potential will not have the means available in working time to extend, to negotiate and achieve this, even where bilateral avenues already exist, but remain unknown. Initial financing will have to be negotiated between government and creative producers, to cultivate products with market potential, returns from which will constitute commission payments, as repayments either financial, or the teaching and inspiring of latent potential, and agreed waiver of percentages of licence income for public uses of successful brands, on a national inspirational community platform.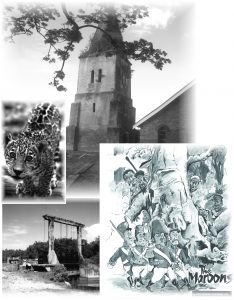 Before the above, must come immediately the evaluation of the potential of what we have before us, the full understanding of its inspirational and edutainment value within and beyond borders, and the must occur support initial engagements that will begin with 'creative value' towards bread and butter. Thus, government must proceed to extract for this continuing engagement process, a bureau of minds inclined to the creative industries, to its commerce and its influence market tentacles. Such a bureau will be a complex task, as all its operatives must have the objective awareness and language to conduct and evaluate the conversation of its GDP value with practitioners and trade source data. To save time from public service indifference to this strange language, it must try to understand what has invaded its comfort zone.
The immediate ad hoc policy of engagement will entail small trial runs, that can be recuperated and justified, but it must begin for example with natural gifts of craft for the holidays, and exploration of the negotiated local book reservoir discussed with former Minister Rupert Roopnaraine. Development of skits and plays for school closing periods, and other items with sponsorship potential, which will emerge once the attention is directed at the furniture room of creative industries and those cases of talents and potential begin to be dusted off and perceived in a new light. What must begin to happen towards realising a corps to stage-manage the cultural industry platform is information exchanges, sincere comprehension and not the usual nods of agreement that are followed afterwards in safe areas by the frowns of cluelessness. It cannot be assumed that administrators understand what we do and how best they can support our efforts and the national GDP and employment of talented but unemployable semi-literate citizens in the process.
We the legitimate creative industry practitioners must through information protect the administrators not from among us, for among us, though not from us, are delinquents, masqueraders and shapeshifters, who will proceed with more alacrity for the kill. There's no room for our efforts to be thwarted by negative stereotypes, through examples of disappointment, for hoodwinked, disappointed people; even high officials do not accept self blame, thus, a national directory must exist of our creative people that must accommodate all expressions eligible for copyright and patents.
All that was also presented by Ruel Johnson and will need a reconnaissance bridge period of practical discourse that has not yet begun in all seriousness; the national collective consciousness does not yet exist, the need for improvising towards a real and functional cultural policy must begin with an initial workable agreement, which can only evolve through the process of an engagement of getting to know each other's immediate needs and ambitions, as all things begin, the same way as between man and woman, a simple courteous "Good evening" which has in many instances led to a fruitful, lifelong relationship. I must, however, conclude this discourse with a factual inclusion of the political hiccups, and the social and economic necessity why we need a cultural policy in place.