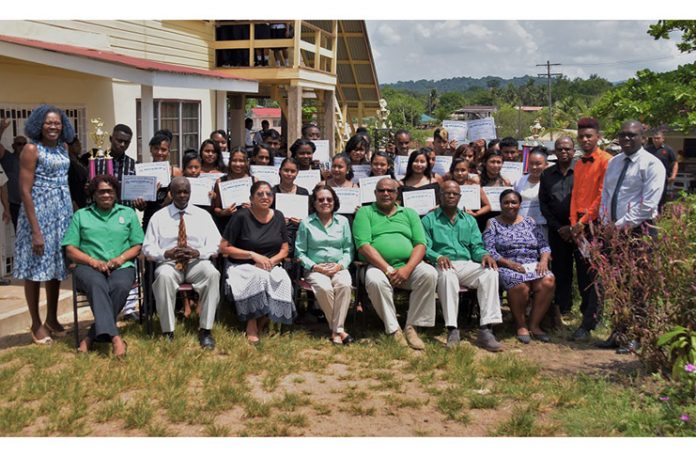 First Lady, Mrs. Sandra Granger charged 28 Mahdia, Potaro-Siparuni (Region Eight) youth to use their newly acquired Information and Communication Technology (ICT) skills to capitalise on the employment opportunities available in their township.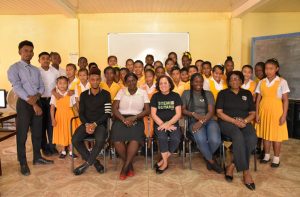 The First Lady made these statements at a graduation ceremony held for the students on Friday following their participation in a month-long ICT workshop for adolescent and out-of-school youth. "Get on top of the opportunities that you can have here. Mahdia is a booming town. Mahdia is open 24 hours, seven days a week, so there are always systems you can work out and put in place to make sure that you are there reaping the benefits … with your skill. As you build them up, you can start writing your own programs [for robots] which might very well be applicable to Mahdia and Potaro- Siparuni …There is a lot growing in the soil of Mahdia, intellectually, socially and culturally," Mrs. Granger said.
The workshop was spearheaded by the Office of the First Lady in collaboration with the Ministry of Social Protection.   Mrs. Granger said she was impressed to see that no participant attained less than 80 per cent in their examinations.  She also committed to soon host another workshop in the township, which will include a component tailored for the town's adult population.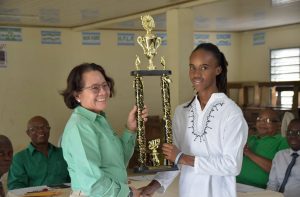 At the close of the ceremony, Mayor of Mahdia, His worship, Mr. David Adams thanked the First Lady for her commitment to equip the youths of Mahdia with ICT skills. He said he was pleased with the student's excellent performance. Regional Executive Officer, Potaro-Siparuni (Region Eight), Ms. Mitzy Campbell; Ministry of Social Protection, Board of Industrial Training, Chief Executive Officer, Mr. Richard Maughn; Vice Chairman, Mr. Donald Ainsworth and Director, Mr. Michael Turner all attended the ceremony, which was held at the Mahdia Secondary School.
Additionally, the First Lady held a two-day Science, Technology, Engineering and Mathematics (STEM) workshop for 30 Grades Five and Six students of the Mahdia Primary School. This exercise, which commenced on October 30, was held in the computer laboratory of the Mahdia Secondary School. At the simple closing ceremony, which was also held yesterday, Mrs. Granger presented two Robotics kits to the school's Head Teacher, Ms. Marilyn Wills. She also encouraged the children to form a STEM club so that they can get constant practice, which would equip them with the skills that they need to participate in the National Robotics Tournament. (Ministry of the Presidency)