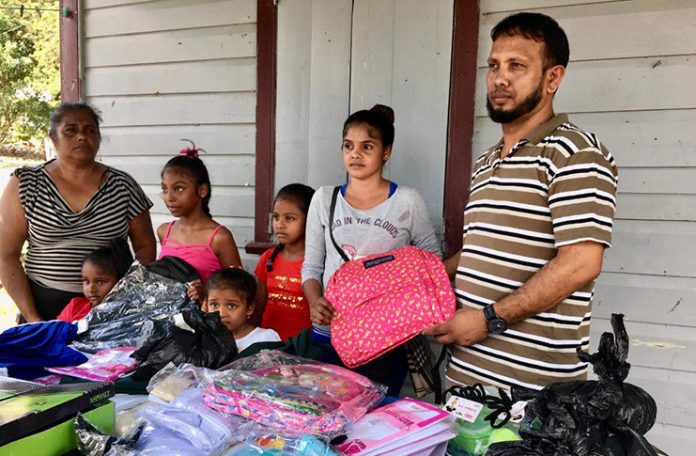 Angela Dhuman, a single mother of three children, ages six, 10 and 12, who were displaced after their home was razed by fire, is happy after Humanitarian Mission Guyana handed over a number of school items to her on Saturday.
Dhuman's mother, Sharmella Bhoelai, 49; her brother, Amar Dhuman and his child who also occupied the house were left homeless when the fire suspected to be electrical in origin struck last Tuesday.
Since the publication of the story, a number of persons have come on board to assist the families. The Humanitarian Mission in a statement said their main goal was to ensure the children were back in school so they can continue their education.
"The Humanitarian Mission Guyana Inc in partnership with its donors mandate is to break the cycle of poverty through education and empowerment. By investing in children and adult education, we are helping them to break away from the many social ills that have been plaguing our youths and adults within our community, because of the lack of an education," the mission said.
It added: "Education is power, is money and freedom. This single mom with three kids and dealing with a deadbeat father is not easy, because many fathers ran away from their responsibilities and it becomes the mother's burden to raise their children and see them through an education."
As such, President of the Humanitarian Mission Suresh Sugrim is calling on fathers and men to rise up and take responsibility for their offspring.
"Fathers and men need to be a part of their children's well-being to have successful children," he said.
Meanwhile, Angela, who works as a waitress, expressed profound gratitude on behalf of her family to the organisation and all other donors who have supported her in this difficult time.