THE Guyana Fire Service on October 11, 2019, hosted its fire safety fair at Durban Park in an effort to sensitise the public on fire safety and how each individual could potentially help to prevent fires and protect their lives and properties.
The fire safety theme for this year is "save lives protect property, strive towards a greener environment."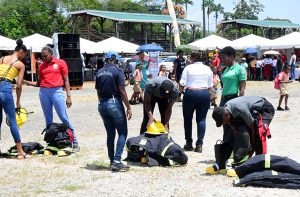 Division Officer with responsibility for operations, Gregory Wickham, said that the fire department aimed this year to have the fair as a part of Fire Prevention Week, to allow members of the public to have a firsthand experience in what the fire service is about and how it operates on a daily basis. During the fair, persons where given the opportunity to take part in several fire safety simulations and training exercises.
"The purpose of this fair is to capture a larger cross section of persons, our students especially, and the members of the community so that they would come and interact with us. We have some firefighting games, and instruments on display so persons would be able to learn about their uses, and how they help the fire service to operate effectively," said Wickham.
He further stated that the fire service wishes to have everyone stand and be ambassadors of fire prevention, saying that everyone needs to play an integral part in stopping fires.
Fire Prevention Officer, Sheldon Sauna, said that the fire service came up with the idea to have the fair because they wanted to have a new channel for disseminating information on fire and safety, and how that relates to every individual.
"Over the past few years, we have been going to schools and doing lectures, evacuation drills etc. so this year we tried to have a new approach where we try to capture the schools around Georgetown to meet with us at a centralised point, and we decided that the ideal place would have been here, Durban Park."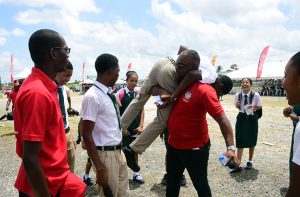 "Most of the activities connote fire safety and some of the operational aspects of what we would do in the Guyana Fire Service, specifically targeting operation, our response, our response time and how we actually extinguish these fires when we arrive on these respective scenes," Said Sauna.
A student from the LaBonne Intention Secondary School, Hebron Lesperance, related that from the activity, he had his entire perspective changed on how the Guyana Fire Service operates and how impactful their work is to the entire country.
"Before I came here I didn't really know the importance of fire fighters like what they really do for the community, and since I came here I learnt what they really do, the types of equipment they use and how that's important, like the ladder on the truck that they would use to get into those tall buildings to save lives. Its something definitely fascinating to me, I even think I might look into joining the fire service sometime into the future," said Lesperance.
Another student, Zahira Alia Banarsee, spoke on her experience at the fair saying, "I didn't even know that the firefighters' job extends past just putting out fires and stuff like that, I just learnt that sometimes if persons are locked out their home because they left their key inside, the fire department has special equipment that they could actually use to get that door opened."