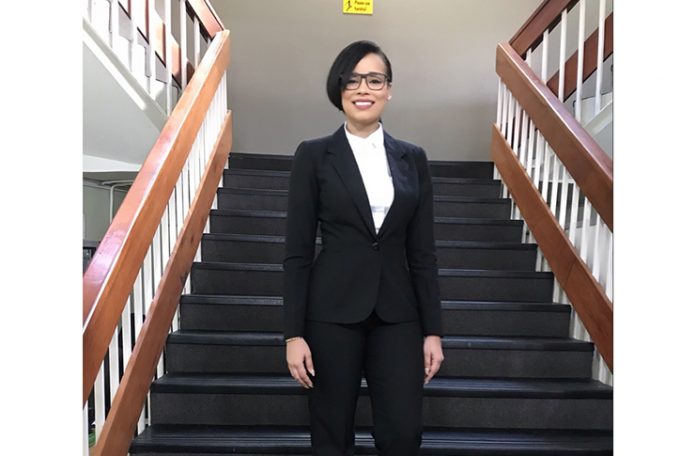 IT was a 'bitter-sweet' moment for 35-year-old Attorney-at-law, Sophia Findlay, when she was admitted to the bar in Guyana, making her eligible to practise in the local Courts.
Findlay's petition was presented by the prominent attorney, Nigel Hughes to acting Chief Justice, Roxane George at the Demerara High Court on Wednesday, October 09, 2019.
On October 5, 2019, Findlay, graduated with her Legal Education Certificate (LEC) from the Hugh Wooding Law School, Trinidad.
The new attorney at law is a former student of the St. Joseph High School and the Annandale Secondary School.
Before becoming a lawyer, Findlay worked as a Teacher, Flight Attendant, Public Relations Consultant, Human Resource Manager, and Marketing Consultant.
Attorney Hughes, while presenting Findlay's petition, described her as a hardworking and dedicated young woman.
The Chief Justice welcomed Findlay to the bar and urged her to commit to the hard work that success entails and to commit to conducting thorough research to serve her clients and the citizens of this nation.
Findlay explained that she had dedicated her career to her son, and the road to becoming an attorney was not easy for it was filled with tears, sleepless nights and times when she doubted herself, but, with her faith in God, she pulled through.
"I am not boastful, nor do I feel like I have arrived; I am humbled," Findlay said when she was admitted to the bar.
She is currently attached to the Hughes, Fields, and Stoby Law Firm of which, attorney Hughes is a managing partner.