… Institute benefits following 2019 CPL promotion
CELEBRATING their second anniversary in Guyana, Hero Caribbean MotoCorp made the Cancer Institute of Guyana beneficiary of monetary contributions to a worthy cause.
On Monday, the Cancer Institute of Guyana located on Lamaha Street was the recipient of the US$1500 cheque, compliments of Hero Country Manager Deon Williams.
The donation was received by Medical Director of the Institute Dr Sayan Chakraborty in the presence of Coordinator Monette Harry and Accountant Kamla Mohan.
The funds originated from a raffle that was held during the Guyana leg of the Hero Caribbean Premier League 2019. "We know and we're confident this (donation) will be put to good use," Williams said, while Chakraborty added, "We will definitely make good use of this because we find a huge number of people need screening and investigation and are unable to do those because of financial constraints. This donation and generosity to the Cancer Institute will help to save a lot more lives."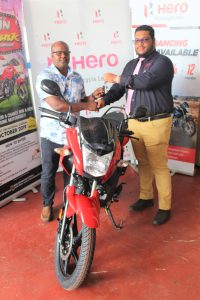 As part of Breast Cancer Awareness Month, observed globally in October, the Cancer Institute has planned a number of activities to raise awareness and edify the public on the epidemic. Coordinator Harry expressed gratitude to Hero and said that an Awareness Walk, in partnership with Digicel and Oasis Water, will take place on October 20 in Georgetown while a vigil on October 25 in collaboration with Giving Hope Foundation at Square of the Revolution and a screening exercise at Hard Rock Café at MovieTowne on October 26 are among the major events planned for the month.
At the raffle drawing, which took place live during the first Playoff game of CPL 2019 last Sunday, Mohamed Shahab Rasool of Malgre Tout on the West Bank of Demerara emerged winner of a new Hero Hunk motorcycle.
Although he's elated to win, Rasool said his primary intention when he bought the ticket in early September was to support Hero and the Cancer Institute's fight against the disease.
"It feels great to win, but I didn't expect to win. First time I ever win something," Rasool said. "I wasn't too sure (when I got the call) because there's lots of prank calls, and it take a while before I believe, and then my wife overheard it on the television also."
The raffle was held in partnership with Rose Ramdehol Auto Sales, the local dealer for Hero MotoCorp.