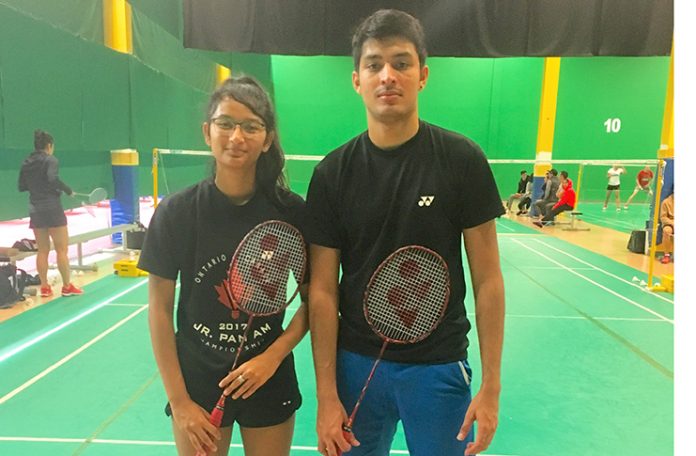 CONTINUED magic from Ramdhani siblings, Narayan and Priyanna, lit up things at the Yonex Alberta Series #1 Tournament held at the Sunridge Badminton Centre in Calgary Alberta, Canada.
When the series, lasting October 4-5 2019, got under way, the Guyanese badminton aces bagged numerous titles. Priyanna eventually went on to capture another career Women Singles title as well as the Doubles B-Flight, bettering her brother Narayan who won just the Mixed Doubles title despite strong performances.
Squaring off against some high-calibre players, some of whom are ranked number one according to Pan American rankings, Priyanna who gained a bye in the semis made light work of Calgary Winter Club's Carol Fu in the Women's Singles B-Flight, destroying her 21-10 and 21-13 in the finals.
Priyanna then joined forces with Mary Smith as they further inflicted woes upon Fu and her club-mate Jessica Leung, thumping the duo 21-14 and 21-13 in their Doubles B-Flight encounter. The Women's A-Flight Singles was also a lopsided event as Ivy Ung of Derrick Golf and Winter Club lost to Ramdhani 21-16 and 21-3 in the Quarter-finals.
The Semi-Finals witnessed Ramdhani endure a 3-set loss 21-11, 14-21 and 21-13 to the talented Reshma Bhambhani, a No# 2 seed representing the B-Active Badminton Club. Her brother, on the other hand, found luck as Narayan teamed up with Smith to hand Archelle Ouano and Ung a two-set defeat 21-15 and 21-5 in the Mixed event which saw them win the titles.
Priyanna and Smith had mixed fortunes as the tourney progressed in the latter stages, losing: 21-14 and 21-14 to No. 1 seeds Emily Chan and Samantha Hsu of The Glencoe Club & B-Active Badminton Club Semi-Finals. However, the Guyanese siblings then bounced back to defeat the Quanos, Archangelo and Archelle, in sets 21-17, 21-15.
In the end, supremacy was shown by the Ramdhanis who whipped Viro Hang and Ung easily in the finals after two sets 21-12, 21-15 as the pair of Badminton masters continued to impress and represent Guyana on the international scene.