THIS article is written on request, for a need-to-know area of professionals. The term Art and Literature-based Edutainment/Adventure as mentioned in the heading covers Comic Books, novels, plays, movies, games and all the 'Brand' merchandise that go with it. It begins with the requisite talent and skill, better, a combination of artistic and literary skills. A combination that drives a specific way of interpreting things, that culminates in a passionate disturbance that demands expression, but embraces it with the understanding, that no serious career is easy to build. All this means is that you have to like what you want to do, despite the nays and jeers of the multitude, within and without.
From the time you begin to write a story and add art to it for public consumption. It is out of your private space. Your Art must cover sequences, be lateral but still be three dimensional. Your characters must be consistent, anatomy convincing, light and shadows must not contradict, foreshortening mastered, and you need a camera, know how to use it, and money to pay models to capture the expressions that your story contains. You also have to have a dictionary, student's companion, first aid in English and a copy of Alsop's dictionary of Caribbean usage. For example, if your story is in the 1970s, research the period; how they dressed, how the backdrop locations looked, etc.
By now you have spent money on bookcases, drawing books, a drawing table, D-T Lamp and all the Lomography pencils, dip pens, inks and stuff, and a solid stash of reference books, computer, scanner, printer, ups, APC strips, software and externals. By the way, I must warn, that you need period research books because google sites will inform as well as misguide you. Those sites are best suited to selectors versed in the atmosphere and imagery of what they're looking for, because in the creative field for every t10 doers there are 2,000 critics who will terminate your name and brand, by the way with all the above, possibly over $1.5M in tangible assets, you can and should put a value of hours spent by you on projects, but you will have to subsidise yourself, because you haven't earned a cent as yet, so keep your not too exciting day job and if young enough, implore mom and dad, mom especially, for your formative career studio space accommodation at home.
Open an account at the bank, register your business, design a letterhead. Please don't look to the internet for ideas towards these items, everything on the Net is out there by someone who owns it. In the search for business, especially what my past friend Hector Stoute called 'Pot Boilers' a letterhead might not get you a gig, but it will attract attention faster than a plain letter. Why the Bank? Because we have not developed the museums, nor are there archives of records and pictures in most, Transport & Harbours, GAC, The City Council among other public entities, you are bound to traverse the internet for past literature and related sources.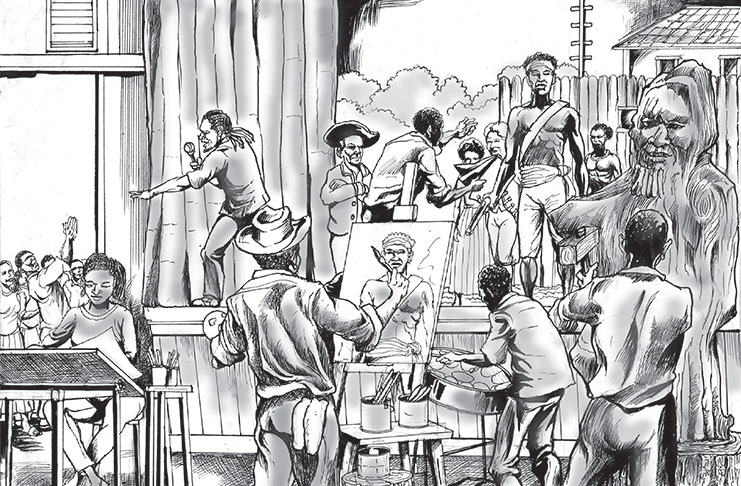 You cannot on the completion of your creative piece copyright it in Guyana just yet, your only other option is the Library of Congress in Washington, so money orders for copyright and postage by UPS or FedEx are part of the criteria. Copyright is important. There are people in prominent social and financial positions who will attempt to steal your intellectual property. Most of your business relationships will prefer to issue you with a cheque, and it adds favourably to your loan options later. Your local development of any creative project will not project you to great financial rewards, because of the reading market that is capable of buying is small.
There are no distributors of goods in the CARICOM network. I'll deal with that in a while, and the local public infrastructure nor most businesses in Guyana do not understand Cultural Industries, because of its tenets which do require a special type of re-education and attitude to familiarise with a 'value' awareness and the unique trade procedures and economics that Guyana does not have ready concept or application templates for. The local publishing will replace some of what is consumed from creative birth, to copyrighting, and eventually to the printer. This will, however, launch your product into the minds of citizens, and we have always had a cadre of aware citizens ahead of our systems.
The other reality is maintaining studio capacity, unlike public workers who take for granted the right to requisition Printer inks, papers, new computers and software and replacements of everything. This is on your budget; consider yourself a pioneer. Grind your teeth and lobby, lobby, lobby. We now have a subvention to the Cultural Industries that didn't even exist, long before Independence. Systems have to be developed in the public system to embrace the creative industries and proposals have to come from we who are the producers.
The possibility to reach the wider world market is finance-driven, private collaborations can speed it up, so you need to self educate yourself on Contracts, Agreements, Licensing as against work for Hire, sums in lieu of royalties, and signing contracts that specify 'We own all we print. By signing this agreement all rights including published copyrights are transferred to us'. Read everything before signing, yes, you have to buy more books.
You need a significant stash to get on the market. The veins of the market are the book distributors, from an old copy from Diamond distributors, they take 45 percent of your cover price ( it's worth it, based on the leverage they initially offer you) but you get returns after 90 days, which means if it's a trilogy you're publishing. You need to have a financing arrangement in the background. It's worth it because your product may initiate a niche market and pivot you into real rewards.
I do hope this will help. You know the saying, "Faint hearts don't win real ladies" and it applies to every human endeavour.