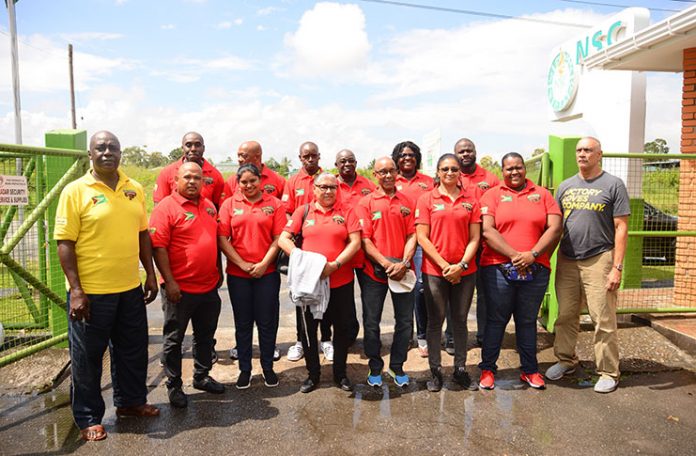 – GAPLF president lauds Government's contribution
THIRTEEN athletes and officials arrived in Uruguay, last evening, to commence participation in the September 17 – 22, PanAmerican/South American Powerlifting and Bench Press Equipped and Classic Championships, with the Guyana Amateur Powerlifting Federation (GAPLF), president Ed Caesar optimistic of the team's success.
Runita White, Nadina Taharally, Natoya Robinson, Lisa Oudit, Bjorn Williams, Franklin Brisport-Luke, Frank Tucker, Noel Cummings and Nairanjan Singh are the athletes, while White and Taharally will double as officials, along with Colin Andrew Austin (Manager), Erwyn Smith (Coach) and Gordon Spencer (Category 2 Referee). Kathleen Paul is the team's Physiotherapist.
Caesar, a former national record holder and PanAmerican champion in the sport, informed that athletes selected to represent Guyana at the prestigious powerlifting event, are all capable of winning medals, since "none of them is going there for experience."
 According to the former Chief Education Officer, all the athletes surpassed the basic qualifying standard set by the GAPLF.
 It was also stated that the team reaching Uruguay would not have been possible without the Government of Guyana's $3.6M sponsorship. Contributions were also received from a number of agencies and individuals. The relevant information, in this regard, will be made public on the team's return.
 The Government's contribution was channelled through the National Sports Commission (NSC), and Director of Sport, Christopher Jones, pointed out that he was more than delighted in ensuring that the lifters were given much-needed support in their desire to make Guyana proud during the engagement in Uruguay. (Rawle Toney)