By Wendella Davidson
FROM trying her hand at sewing dolls' dresses as a little girl, Fiona Coates, now 35, has emerged as one of the most sought-after seamstresses/designers in the Cinderella Country of Essequibo.
For her, it is just her ability to sew, but others who are privy to her handy work are of the view that she has a God-given-talent, as no style or design appears to be difficult for her.
In addition to being sought after for putting together unique and classy to-die-for dresses, uniform suits and bridal gowns, she is also known for the award-winning costumes she designs for schools and companies on the Essequibo Coast for events such as Mashramani and independence.
As a matter of fact, all of her costume bands, both in the large and small categories have been on the winning end every year since she started.
Recently, Fiona was chosen as the designer for the Miss Essequibo delegate in the Guyana Police Force's Miss Queen of Queens Pageant, which was staged at the National Cultural Centre (NCC).
And, although her client/delegate did not win the coveted crown or the Best Gown Award, Fiona's design stood tall among some of the gowns worn by other delegates.
According to Fiona, she thrives on Hubert de Givenchy's quote: "The dress must follow the body of a woman, not the body following the shape of the dress."
Born as the fourth child to Wilfred and Cora Coates, of Lot 41 Henrietta Scheme, Essequibo Coast, Fiona's desire to become a seamstress, following in the footsteps of her mom, Cora Coates.
In an exclusive interview with the Pepperpot Magazine, Fiona remembered when at about 10 years old, whenever her mom 'Cora' became overwhelmed with sewing, she had so much confidence in her (Fiona) that she would give her unfinished dresses to attach the buttons or complete by stitching the hem, which was usually required to be done by hand.
Soon, she was helping in sewing school uniforms and by 12 years old, she already had her own clientele — young people like herself and even adults, outfitting with skirts, tops and dresses." It was then that I realised that sewing was my niche, no style was too hard for me to put together, " she said.
At age 18, Fiona moved to St Kitts/Nevis to work with a woman who owned a boutique, but that relationship did not last and she subsequently began working at `Sain Tailoring', a garment factory. There she learnt the finer art of sewing and how to put fabrics together the right way, as she worked with the company for four years.
Meanwhile, Fiona, who lived with an elder sister who had migrated to the island many years before her, was able to 'catch her hand' doing pieces of sewing for her sister's friends and other contacts she had made.
And, as word got around about her work, she was contracted to sew swimwear and fashion costumes for `Culturama,' a popular festival on the island.
Fiona, then 22, got married to a Guyanese living on the island but returned home shortly after, when the work permit of her husband, a construction worker, expired.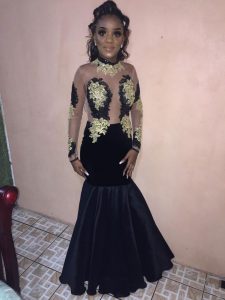 Upon her return home, she continued sewing and even started doing hairdressing and it was then that she started hosting fashion shows and designing costumes for schools.
"The first fashion show I hosted on the Essequibo Coast was at the Caribbean Heat Hotel, Restaurant and Bar and the attendance inspired me to host others, even at Matthew's Ridge in the North-West region," Fiona said.
She also hosted a Miss Essequibo beauty pageant and the winner Kenecia Christian, went on to be a delegate in the Miss Guyana Universe 2012 pageant.
Fiona surmised that it was as a result of how she outfitted Kenecia for her appearance as a delegate for the 2012 pageant, that she was invited by the Miss Guyana Universe Committee the following year to join the line-up of designers, among whom was popular local designer Pat Coates.
She subsequently returned to St Kitts/Nevis where she spent some time before travelling on to New York.
"Returning to Guyana, it as if I never left. My clientele has further expanded and I am back to being my old self, but for me, my gratification is when my clients are all pleased with my work. For this I am extremely grateful to the Almighty for the talent he has blessed me with, and to my mother who I initially learned it from," she said. "I am still learning as every day new styles and techniques evolve and one has to keep learning to be on top of the game."