By Wendella Davidson
WHEN someone complains about feeling stressed or being constantly tired they would often be given a popular piece of advice: "you need a massage".
A massage is defined as the rubbing and kneading of muscles and joints of the body with the hands, especially to relieve tension or pain. It is an art that was first practised some 5,000 years ago by settlers in the East and West – the Chinese, Indians, Japanese, Romans and Greeks.
In that era, people viewed massage therapy as sacred, hence the use as a natural healing balm for injuries and to relieve pain and cure illnesses. Over the years, though, as massages became very popular, some persons started to harbour different mindsets, with some even against the nudity of it.
In a recent interview with Natasha Goodman, a massage therapist who hails from Mabaruma in Region One (Barima-Waini) and has been in the business for eight years, she said that massage is about more than providing relaxation to someone. It also increases blood circulation and allows the tired or distressed recipient to feel refreshed and re-energised.
She has been exposed to training both here and in Trinidad and has also had international exposure working along with seasoned massage therapist, Lisle Headley, founder of Nature's Own Body Clinic. Headley has also hosted several massage workshops at various venues in neighbouring Suriname, over time.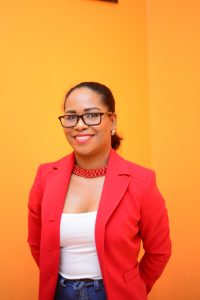 Natasha also a trained cosmetologist with 11 years' experience, operates her business, NG's Sensation Salon and Cosmetologist School, within which is a massage parlour, in a three-story building on Bent Street, Wortmanville, between Louisa Row and Hardina Street.
She said it was always her desire to incorporate the massage aspect into her business, so she thought the name she chose was befitting. Beauty is not only on the outside, for someone to achieve the real and true beauty, it also has to come from within, she noted.
"Being into the beauty business, I realised that most of the services would always involve some little bit of the massage. In the salon, whether it is giving a client a manicure or a pedicure, it is a requirement that the hands or the feet be massaged upon completion, to aid the circulation. Thus [I got] the motivation that the inclusion of a massage spa would be helping the clients to feel good overall, "the masseuse said.
Natasha said her focus is on the Swedish massage which is the most common form and the Lymphatic Drainage Massage, adding that they are both full-body massages. To execute her aromatherapy, she uses a special blend of essential oils, a combination of various ingredients, such as rose oil, lavender oil and her main product, or base oil, the popular local coconut oil. The local coconut oil is a pleasure to work with, she said. It is healthy, good for the skin and also smooth.
She noted, however, that there are persons who are allergic to highly-scented oils and certain products. Also, it is through consultation- which is done before she begins to work on a client- that she learns whether the individual is hypertensive, diabetic, had any accidents or broken bones.
Explaining about a full-body massage, she said it usually includes the arms, legs, hands and feet, neck and back, stomach and buttocks, and with the female, the breasts, and should last an hour. During the period, most of the individual's body remains covered with a white sheet and the therapist will uncover the part of the body that is being attended to at the time.
She said that most persons who request a massage, know nothing about the lymphatic system in the body. They just want a massage to feel relaxed, but according to her, even though she wants her clients to feel good and be relaxed, she also looks after the health aspect. A massage is also a manual manipulation of the auxiliary areas of the body that helps to detoxify the body. To carry out the activity, the atmosphere must be serene with soft lights, as most persons before doing so are very tense.
Massage is all about bringing relief to the client, but it begins with making the recipient feel comfortable and relaxed. To make the client comfortable, the massage therapist also needs to explain what the process is about and the areas of the body that will be touched. "Not many therapists would take care of the breast of the female or the buttocks on any human, they would usually leave out those two parts, but those two parts are very important," she said. "The breast has many lymph nodes that help to cleanse the body. You need to let your clients know that it is nothing sexual, as people have that kind of mindset about having massages, some people are against the nudity of it."
A lymphatic drainage massage helps to eliminate the lumps in the breasts and drain the lymph nodes. She noted that with a client who is diabetic, the condition is easily observed as the client would fall asleep as soon as the body is touched. So for a diabetic, a Swedish massage is very helpful, as it aids in the circulation and in eliminating the nipping of the toes, pains in the feet and cramps.
Natasha recalled that it was during a bout of illness of her mother, Felicia Goodman, now deceased, that her interest as a massage therapist piqued, as had she not done a massage on her mom, that the family would not have been able to ensure that the woman visited a doctor without delay.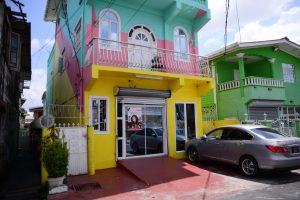 "My mother was diabetic and while doing a massage on her feet on day, to aid the circulation, I realised that she was very sensitive to the touch on the bottom of her feet. This led to a visit to a doctor and the diagnosis led to her subsequently undergoing surgery," Natasha pointed out.
Natasha said she has come to realise that being in the massage business allows her to help persons to be aware of what's going on with them internally. She added that she is very passionate when it comes to cancer, recalling that her father recently died from the disease.
On this note, she explained that simply doing a breast examination can save a life of someone who may have breast cancer, while adding that much is being done within the local health sector and even internationally to educate about all forms of cancer.
Natasha, who has home service to clients on her agenda, said whenever she does massage on a client and comes across anything suspect, she refers the client to a doctor.
As a massage therapist, who thrives on the belief that prevention is better than cure, Natasha disclosed that for the observance of Cancer Awareness, she will be conducting a four-hour workshop at the Theatre Guild on October 12, 2019, in collaboration with entrepreneur Lisa Headley.