RESIDENTS of Tiger Bay, Georgetown were apprised of government's priorities concerning improving several sectors.
This was conveyed during a community meeting hosted by Minister of Foreign Affairs, Hon. Dr. Karen Cummings and Minister within the Ministry of Communities, with responsibility for Housing, Hon. Annette Ferguson.
More specifically in the areas of Housing and Foreign Affairs, it was explained that these areas are receiving continuous attention by the government as they seek to provide adequate and suitable living solutions while sensitising residents on the government's foreign and diplomacy agenda.
Minister Cummings indicated that the government has been dealing with the influx of Venezuelan migrants and other foreigners entering the country. She encouraged the residents to take advantage of the many opportunities available.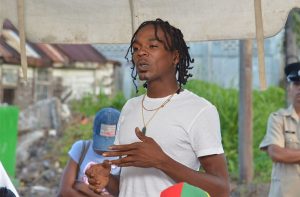 "If something good wasn't happening, they would not have been coming… I am tasked to protect our territorial sovereignty and integrity and so I do that," she said. She noted since assuming office in 2015, the administration has embarked on several transformational developmental initiatives designed to benefit all Guyanese. "If you look around you can see some of those transformative changes. Great sums of money have been budgeted for and spent of infrastructure development, housing development education, improved public health care, security, improved wages and salaries," Minister Cummings stated. Addressing the issue of housing opportunities, Minister Ferguson said every effort is being made to ensure that house lot applications are addressed as priority is being placed on the backlog of applicants.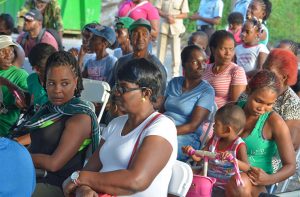 "We have to work with Guyana Lands and Survey Commission [GLSC] and NICIL [National Industrial and Commercial Investments Limited] they too have control over lands," she remarked. The minister that she had recently spoken to the Commissioner of the GLSC, Trevor Benn on the release of lands for the establishment of housing schemes.
Together, the two ministers urged the residents to embrace progress in support of what else is to come. While the residents agreed with the developments highlighted, they spoke of what they would like to see in the community. Godfrey Powers, a youth in Tiger Bay, said he can testify to the changes that came under the current administration. However, he hoped for the beautification efforts in the community be supported by the government. He called for regular engagements between government officials and the young people in Tiger Bay. He was supported by Sueann Gibbons who echoed similar sentiments. Residents also called for the reconstruction of a community Centre to replace the previous West End Centre. (DPI)