–thanks to the LMTC's ambitious street lighting project
THE Linden Mayor and Town Council (LMTC) has undertaken a massive street lighting project which will see communities that were hitherto in darkness now being lit for the very first time.
The development follows the Ministry of Communities presenting the Council with 350 street lights for distribution amongst the municipality's eight constituencies, not equally, but according to their needs.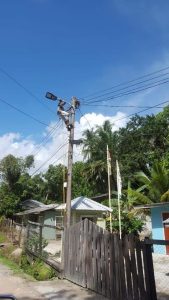 Mayor of Linden, Waneka Arrindell said Monday that Constituency Five, which is the areas around the Wismar shore, has been completed, while Constituency Eight is currently being targeted.
She said that a decision was taken to start on the Wismar shore because there was a greater need in those communities for street lighting, since many of them have none at all, and were prime targets for criminal elements.
The project has reportedly been favourably received by residents, many of whom had to learn to live with the darkness for many years.
The Council is currently partnering with the Linden Electricity Company Inc. (LEI), the Linden Utility Services Coop Society Limited, and the Community Development Councils, to ensure that unlit communities are given priority.
Among some of the unlit communities on the Wismar shore that will benefit from the project are Blue Berry Hill; Wisroc; Buck Town; Acccabre Drive, Kara Kara; South Amelia's Ward; Phases Two and Three Amelia's Ward; Kara Kara; and Retrieve.
Residents of Canvas City are in high praise of the LMTC for the initiative, and by extension the Central Government, since the community is brighter and therefore more welcoming at nights. "Last night I was surprised when I entered my community of Canvas City. Thank you very much; we applaud your great efforts," wrote Nkasi Giles on social media. "This is the day that the Lord has made, and I will rejoice and be glad in it," said Latoya Pellew, another resident. "Our community finally has lights after more than 10 years. Kudos to the Town Council for such great work," she added.
This community lighting project will not only enhance visibility in the areas for which they are intended, but those areas themselves will also be given a social boost, since residents will no longer be so vulnerable to crime, particularly at nights.
The project is also in 'sync' with the municipality's adaptation of the United Nations Sustainable Development Goals; particularly those having to do with the responsible consumption and production of energy.
As such, residents will now be sensitised on how to become smart consumers of this very important commodity.
In addition to the lighting project, the LMTC is using its $18M subvention for road repairs, and the desilting of culverts and drains, amongst other infrastructural upgrades within the constituencies.