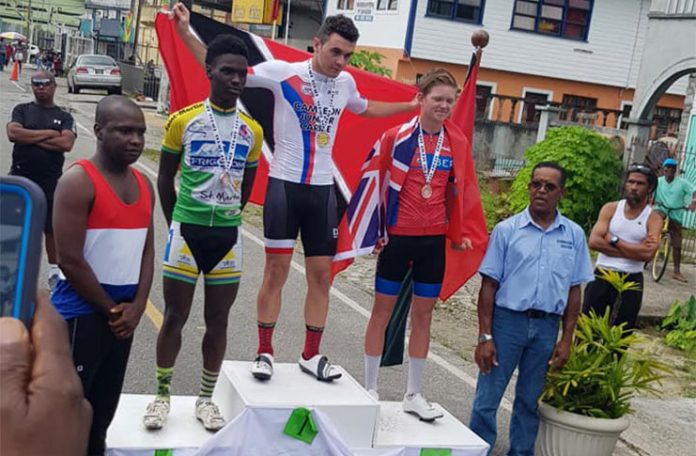 BARTICIANS were treated to another thrilling day of cycling yesterday when the Junior Caribbean Cycling Championships concluded with the road races in the Juvenile and Junior categories respectively.
However, it was another tough day for team Guyana as they missed out on a podium spot once again. However, the battle in the Juvenile category was yet again enthralling as Puerto Rico's Derex Sequara turned the tables on Bermuda's Alexander Miller to cop Gold this time around after missing out on the top spot to the latter in Saturday's Time Trials.
Sequara finished ahead of a three-way sprint to the finish line, crossing in one hour, 48 minutes and 34 seconds to snatch Gold from Miller who had to settle for Silver this time around with a time of 1:48: 35. US-Virgin Islands' Michael Dizon-Bumann was third across the finish line, grabbing Bronze in 1:48: 36.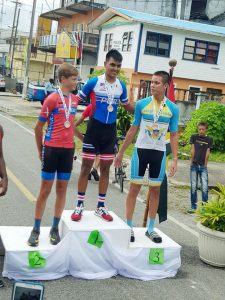 Over in the Juniors' race, Trinidad and Tobago cyclist, Enrique Comarmond, copped the double. He followed up Saturday's Time Trial Gold with a win in the road race; he crossed the finish line in two 2:30: 22. Comarmond's nearest challenger, Kianny Noel (St. Martin) finished in 2:30: 33 seconds to cop Silver while Bermuda's Nicholas Narraway settled for Bronze in 2:34: 25.
The route for the Road Races saw the cyclists come off the ramp at Second Avenue and Third Street before heading east into Third Street, south into Sixth Avenue, onto the Bartica/Potaro Road where they made a U-turn at Three Miles Secondary School and headed back down to One Mile.
They then made a right turn into the Arcade, right into Sixth Street, north onto Second Avenue and finished at the Sixth Street Avenue to complete a lap.
The Juveniles' race spanned five laps while the Juniors' race was contested over seven laps.
Guyana played host to the Junior Championships for the first time in its history.