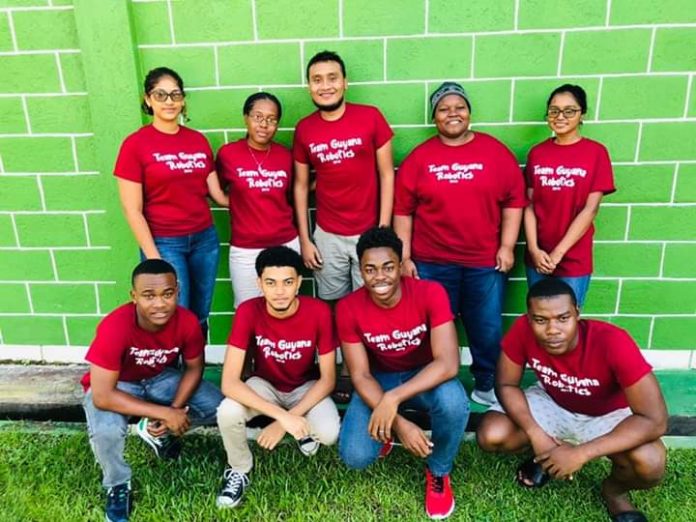 NINE young Guyanese will be representing Guyana at the First Global International Robotics Competition, which will be held in Dubai in October.
The Guyanese contingent consists of: Maryam Bacchus, Michael Sampson, Ghwan Lynch, Ashley Adams, Dominic Budhan, Christopher Nelson, Stephanie Simon, Shawn Singh and Arianne Mahase.
Mahase and Singh have been at the forefront of STEMGuyana activities since the body's conception in 2017. They were also part of the original contingent that represented Guyana at the First Global Robotics Olympics in Washington D.C. in 2017, and will be looking to lend the expertise they have gathered over the years to the team this year.
Guyana participated in this challenge in 2017 and 2018 and performed well. In fact, in 2017, the team was ranked first at the end of the first day and placed 10th overall at the end of the competition held in Washington, DC.
Team Guyana, along with the other teams, worked to devise solutions, through the use of robotics, for issues facing the world. In 2017, the challenge focused on access to clean water, and in 2018, the focus was on sustainable energy-saving techniques.
According to founder of FIRST Global, Dean Kamen, the competition aims to provide an opportunity for young people who are keen on creating a positive impact in the world through Science, Technology, Engineering and Mathematics (STEM).
To facilitate Team Guyana's journey to Dubai for the competition, the government of Dubai has agreed to fund the travel expenses of the Guyanese contingent. Guyana will be joining over 2,000 youth participants representing 193 countries.
The organisation, however, said that the team still needs to raise funds to purchase the competition robot and pay for accommodation, food and other expenses.