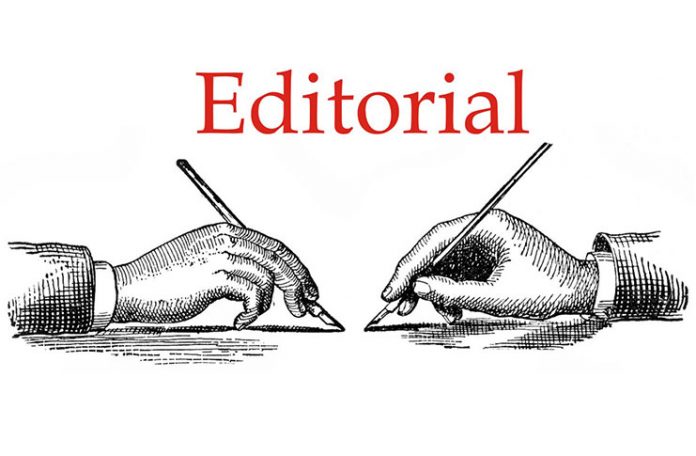 WITH the commencement of the long-awaited procedure of house-to-house registration on Saturday, duly announced by the Guyana Elections Commission (GECOM), the key in ensuring the delivery of a National List of Electors has now been placed firmly in the procedural lock, that will open the door to a free, fair and transparent electoral process.
All Guyanese must, therefore, avail themselves of the opportunity to become registered for participation in the democratic process of choosing a government of their make.
However, there is a question that is current on the lips of Guyanese whose memories are nimble, fresh and current on matters that relate to the nation's continuous political journey: where are those voices of principle that once sounded daily from the roof tops, on a matter of the deepest national interest, because it represented a matter that stood at the heart of national democracy? Where are those honest citizens who, it must be recalled, lobbied internationally, and staged national protests for an issue which they vehemently argued was a right of the people because its absence denied them the right of a fair and proper choice? And where are those citizens, who were once outright in condemning undemocratic acts, in this nation? Surely, the absence of their voices is missing.
The holding of national elections that are free and fair is recognised as the fullest expression of the democratic credentials of any country since it is a constitutional exercise that gives every eligible citizen the opportunity and participation in the right to choose the government of their choice. But every national election is expected to be conducted in a manner that is above board, as well as transparent. This means that the results, when declared, must be accepted as credible, as well as without doubt or controversy. It must also be able to withstand scrutiny from all quarters.
In Guyana, where national and regional elections are constitutionally held every five years, it is well known that every such constitutional exercise is supported by a process of house-to-house registration, which allows for a sanitized/clean voters list; meaning a list of voters who are registered as being alive and present in Guyana at the time of this procedure, as well as allowing for the registration of those young voters who become entitled to take part in the national electoral process, because of attaining the age of eligibility.
This has been the national political mantra of the Jagan-led Peoples Progressive Party/Civic (PPP/C), right on to the Bharat Jagdeo–led PPP/C, that had contested successive national elections, and which procedure it is currently objecting to, for reasons which can only be described as politically-expedient, anti-national and anti-democratic.
In fact, it is instructive to note that there has never been an objection from the now opposition PPP/C when it had the reins of government, or from any of the individual member political parties of the current coalition, before they collectively became the government in 2015, prior to now, to the legal fact of house-to-house registration having to be done for the purposes of a national election, as it is in accordance with the National Registration Act, and has been done so many times before. In fact, the following years, from 1992 on to 2015, were indicative of election years when the PPP/C were known to demand and ensure that there was house-to-house registration. It was, as it still is, a national exercise which the government at that time would have been correct to uphold, as it was a legitimate requirement for such to take place before every election, for the issuing of a proper voters list; as well as being a legitimate expectation of the people.
It is well known what padded, corrupted or tainted voters list have caused in terms of social disorders in other jurisdictions. It can only be the devious minded who would pretend not to be aware of such instances, and the degraded name that it has given to those countries in which such an electoral perfidy is allowed to occur. Therefore, it would be an act of the gravest dereliction of constitutional and national duty if a government makes a proclamation for national elections without ensuring that the national electoral body, in Guyana's case, the Guyana Elections Commission (GECOM) has not prepared a list which is accurate and a true reflection of the statistical total of eligible voters. And as a reminder, it is this constitutional body which is solely responsible for this important task, and which, on completion of same , must advise the government on a date for election. It is a constitutional fact, which Bharrat Jagdeo, when as president, sometime ago, reminded the nation, when he had announced a date for national and regional elections.
And so, it is fair that we ask: why now is this political party objecting to a necessary exercise which they had always supported and ensured it was done, when it had been the government? Is it fair, for reasons which are best known to this now opposition party, to object to an absolutely necessary process which had always been done? There can be no other reason, except for sinister purposes.
It is criminal for any political party, albeit the opposition, to attempt to hinder this key electoral, mainframe exercise of house-to-house registration. It amounts to desperation in efforts to stymie the democratic process while, at the same time, frustrating the will of the people. It is the most glaring of the known examples of PPP/C hypocrisy. House-to- House registration lays the solid ground for national elections which are transparent and credible and acceptable to all Guyanese. The process has begun. There should not be any excuses not to register.