TWO more teens on Monday, June 17, 2019, confessed before Justice Navindra Singh at the Demerara High Court to the killing of 75-year-old retired University of Guyana Professor Pairadeau Mars
Nikisha Dover and Orin McRae were a part of a five-member teen-gang who was initially charged with murder. The two teens opted to plead to the lesser count of manslaughter.
The duo admitted that, on May 12, 2016, they unlawfully killed Mars at his Lot 395, Bissessar Avenue, Prashad Nagar home, during a robbery.
The teens were remanded to prison until July 12, 2019, for a probation report to be presented in court and sentencing.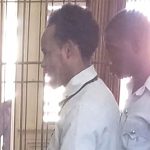 Attorneys-at-law Mohamed Ali and Adrian Thompson represented Dover and McRae while the state was represented by prosecutors Tuanna Hardy, Teriq Mohamed and Sarah Martin.
Earlier this month, 18-year-old Naomi Adams was the first to throw in the towel and plead to the lesser count of manslaughter. Adams returns to court on June 24, 2019, for sentencing.
Currently, on remand awaiting commencement for trial into Mars murder are Timothy Paul Chance and Andre Benjamin.
Mars was killed by a gang of teens, who reportedly beat and bound him in his home. The professor was found in his home by his wife with his hands and feet duct-taped and with injuries to his head.
The house was ransacked, and a number of articles and cash were missing. He was pronounced dead on arrival at a private hospital.
The five accused at that time were between the ages of 15 and 18 and reportedly confessed to the murder/ robbery while in police custody.
According to reports, the teens were known to Professor Mars and were arrested after neighbours observed the group leaving the retired professor's residence with suitcases and entering a car.
Less than 24 hours after committing the crime, the teens were arrested by the police and a large sum of cash, a laptop computer, iPod and PlayStation that were taken from Mars's home were recovered.
A post-mortem performed on Mars had revealed that death was due to manual strangulation, compounded by multiple fractures to the head and face.