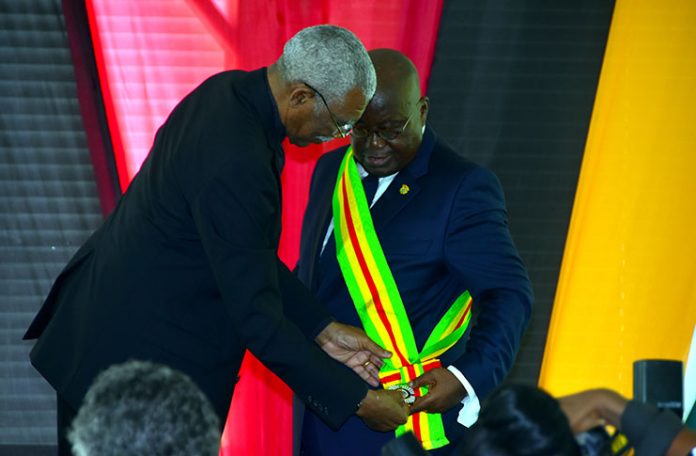 –with conferral of country's highest national award
PRESIDENT David Granger has conferred the Order of Excellence, the country's highest national award, on President of Ghana Nana Addo Dankwa Akufo-Addo for his unflinching support to developing countries the world over.
The award was bestowed on President Akufo-Addo on Tuesday during a simple but prestigious ceremony at the Baridi Benab on the grounds of State House.
The Constitution of the Orders of Guyana designates the Order of Excellence of Guyana "the highest award of the State," a title bestowed upon persons of distinction either nationally or internationally.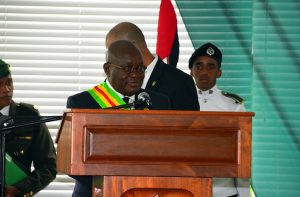 In his address shortly after conferring the award on President Akufo-Addo, President Granger said it was an honour to have done so, as his Ghanaian counterpart has shown great dedication and commitment to not only the Commonwealth of Nations, but the Organisation of African Unity (OAU), and the Economic Community of West African States (ECOWAS) as well.
"President Akufo-Addo, distinguished statesman, is being recognised for his invaluable exertions in promoting economic security and stability on the Continent of Africa, his steadfast dedication to regionalism, and his tireless efforts to promote the interests of developing states," the Guyanese Head of State said.
He told President Akufo-Addo that developing countries are looking forward to his continued leadership and stewardship to protect their gains and secure their future. Guyana, he said, regards the Ghanaian President as a dear friend.
"I congratulate President Akufo-Addo on his investiture. I thank him again for his stewardship to the developing world, particularly for small states. I wish him continued success and health," the President added.
President Akufo-Addo, who is currently on a two-day State visit to Guyana, expressed gratitude to the Government and People of Guyana for presenting him with the country's highest national award.
"I am, of course, extremely appreciative and very grateful. I am not sure that all of these strong words that you have said in my regard are completely worthy, but they certainly provide me with the guideline that I have to try and achieve. I am very, very grateful, and I am concerned about how the two of us and our two countries can work together to promote the welfare and interest of our two peoples," the Ghanaian President said in response.
President Akufo-Addo, who, from the tone of his response, is well abreast of what is taking place here, also commended President Granger for his stewardship over the past four years, even as he noted that positive growth and development can be readily seen.
"I have to commend you, Mr. President, for the strong leadership you have exhibited upon assuming the rise of your Government in 2015," he said, adding: "From a growth rate of 3.2 per cent at the end of 2015, the Guyanese economy, according to the Economic Commission for Latin America and the Caribbean (ECLAC) is projected to grow to 4.6 per cent this year.
"With the agricultural and extractive sectors of the economy witnessing significant growth, it would be fair to conclude that your vision of building a diversified economy is on course."
The investiture ceremony was attended by officials from both Guyana and Ghana.
On Guyana's side, they included Prime Minister Moses Nagamotoo; Minister of Foreign Affairs, Dr. Karen Cummings; Attorney- General and Legal Affairs Minister, Basil Williams; Speaker of the National Assembly, Dr. Barton Scotland; Chief Justice Roxane George-Wiltshire; former President and Leader of the Opposition, Bharrat Jagdeo; former President, Donald Ramotar; and former President and Prime Minister, Samuel Hinds. Members of Guyana's Diplomatic Community were also present, including US Ambassador Sarah Ann Lynch, and Canadian High Commissioner, Lilian Chatterjee.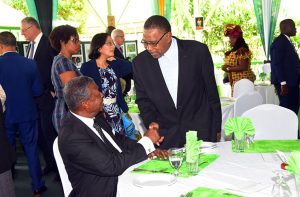 The Ghanaian delegation comprised Shirley Botchwey, Minister of Foreign Affairs and Regional Integration; John Peter Amewu, Minister of Energy; Barbara Oteng Gyasi, Minister for Tourism, Culture and Creative Arts; Abena Pokua Adompim Busia, High Commissioner of Ghana to Guyana; Napoleon Abdulai, Ambassador of Ghana to Cuba; Michael Ofori Atta, Director for Regional Integration, Presidency; Yoofi Grant, Chief Executive Officer of the Ghana Investment Promotion Centre; and Florence Akonor, Director, Ministry of Foreign Affairs.
In honour of President Akufo-Addo's first State visit to Guyana, President Granger also hosted a luncheon at the Baridi Benab. On Tuesday, the Ghanaian delegation also met with the Leader of the Opposition at the Marriott Hotel. A meeting was also held with the Ghanaian Diaspora and representatives of African Group Organisations in Guyana. That meeting was also held at the Marriott Hotel. The Ghanaian President and his delegation are scheduled to leave the country this morning.