IT was an action-packed weekend for athletics at the National Track and Field Centre (NTFC), Leonora, West Coast Demerara when the Guyana Overseas-Based Sports Association (GOBSA) ran off its fourth Annual Independence Track and Field Classic.
SATURDAY
GDF's Akeem Stewart recovered from a stumble to win the men's 100 metres in 10.44s while Kenisha Phillips won the distaff side of the event.
With Davin Fraser false-starting in the final, it was Stewart's race to lose and the ripped sprinter overcame a decent field of sprinters despite a tough first 30 metres.
Young and rising sprint sensation, Loneil Marks, finished second in 10.52s while Rupert Perry, after a long lay-off from the track, clocked 10.69s in his second race of the season.
Phillips was in a class by herself clocking 11.94s to win the women's 100m. Alita Moore clocked 12.18s for second while Cassie Small ran 12.31s for third.
Meanwhile Brianna Charles ran an impressive 12.20s in the 15-17 Girls' category to top Princess Browne and Celine David who took 12.50s and 12.91s respectively.
Nilon Spencer looked solid in the 15-17 male category with a 10.97s 100m win just ahead of Wesley Tyndall's 11.09s run. Devon Williams ran 11.15s for third.
However, Tyndall earlier in the day easily won the long jump event in the same category with a leap of 6.56 metres.
Police athlete Anfernee Headecker completed a solid Men's 1500m in 4:09.60s while Odwin Tudor placed second in 4:11.31s.
Marlon Nicholson was third in 4:14.26s.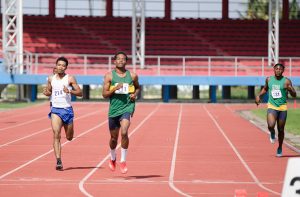 CARIFTA gold medallist Matthew Gordon was in a class by himself with a comfortable win in the 15-17 1500m in a time of 4:18.40s.
Jahiem Vandenburg had a field double with wins in the 15-17 discus and javelin throws. Vandenburg threw 28.55 metres in the discus and 44.00 metres in the javelin.
CARIFTA javelin gold medallist Anisha Gibbons won the javelin event easily in the Girls' 15-17 category with a throw of 35.39 metres while Keliza Smith captured the long jump event in the same category with a leap of 5.76 metres.
National javelin record holder Leslain Baird was also in action with an easy win, using the three-step technique to record a distance of 65.19 metres.
Other wins during the day's activity included the likes of Shanay Nicholas, Akeelah Dover, Odessa France, David Higgins and Jair Samuels.
SUNDAY
Devaun Barrington made a huge statement by winning the Men's 800 metres.
Barrington, having somewhat of a point to prove after being out of the arena for some time, clocked 1:52.30s to comfortably win the event ahead of Anfernee Headecker who ran 1:53.67s while Daniel Melville finished third in a time of 1:57.78s.
Meanwhile, Loneil Marks won the Men's 200m in 21.36s ahead of Daniel Williams who clocked 21.37s in one of the most thrilling races of the meet.
Williams, however, retained his pet event – the 400m – in 48.97s.
Matthew Gordon continued his rich form with an 800m win in the Men's 15-17 category in a time of 2:00.92s while Aaliyah Moore topped the women's 800m in 2:23.97s.
Princess Browne was also one of the day's winners with a winning leap of 11.88 metres in the 15-17 triple jump event while another 2019 CARIFTA bronze medallist in Adriel Austin won the 15-17 800m in 2:19.45s.
Brianna Charles completed a sprint double by winning the Girls' 15-17 200m in 24.81s. Keliza Smith needed 25.43s.