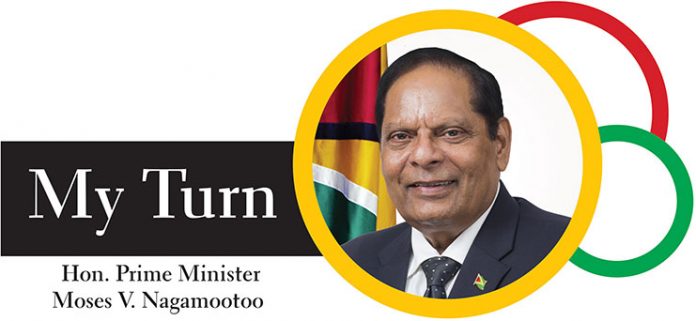 A WEEK from now, we will observe the 53rd anniversary of the independence of Guyana from Great Britain. We will acknowledge that, as we say in local parlance, not only we navel-string buried hey, but this is the place where our common Guyanese nationality flourishes. At this time, for those of us who were born in Guyana, we celebrate Guyana as our Motherland.
My ancestors came from India, their Bharat Mata, between 1847 and 1860. Most of them did not repatriate, but instead planted roots initially in Bath and Mahaicony. Their off-spring, who were born in the colony, spread out to Albion and Whim on the Corentyne Coast, and were possibly scattered elsewhere. They embraced this country as their native land. They were proud to be Guyanese at birth.
OH BEAUTIFUL GUYANA
The patriotic affinity with the land of their birth of all of our peoples who were born here, is captured in the national song "Oh Beautiful Guyana," put to music by Valerie Rodway, the centenary of whose birth we observed a few days ago with the release of a commemorative stamp. The lyrics of this song are captivating, a stanza of which reads:
"Oh beautiful Guyana
O my lovely native land
More dear to me than all the world…"
This land is "more dear" to the descendants of several ethnic groupings. Recently, when we observed National Arrival Day on May 5, we were reminded of the arrival of Europeans, Africans, Portuguese, East Indians and Chinese. They joined the Amerindians, our indigenous peoples, who were already here, centuries before. That was how we became the Land of Six Races, as we have come to know Guyana.
In addition to National Arrival Day, we celebrate Emancipation Day on August 1, in recognition of our African brothers and sisters and their ancestors; Chinese Arrival Day on January 13; Portuguese Arrival Day on May 3; Indian Arrival Day on May 5, which coincides with National Arrival Day; and we observe September – an entire month – as Indigenous Heritage Month.
As an independent nation Guyana respects and celebrates its diversity. By treating each ethnicity as equal, Guyana reinforces the integrity of its composition and strengthens the bonds that bind its different peoples together. It is this bond that strengthens our diversity, and commits us to our common duty to serve this nation.
YOUNG PEOPLE
I am writing today's column with young people in mind, and dedicating it to them, since this year's independence celebrations will take on a distinct character with youth being centre-stage. Young people from all 10 administrative regions will feature in mass games, cultural displays and in the solemn flag-raising ceremony.
The main reason for this is that our young people must be given every opportunity to showcase their nationalism, their love of country, as Guyanese.
Our young Guyanese citizens will demonstrate their loyalty to country and their love for our fellow citizens, which our National Pledge commands us to do. They must become the exemplars of patriotism that is contemplated in Article 7 of our Constitution, which states:
"It is the duty of every citizen of Guyana wherever he or she may be and of every person in Guyana to respect the national flag, the coat of arms, the national anthem, the national pledge and the Constitution of Guyana".
It is time that our young people who are the benefactors of the great promise that Guyana holds for them, mirror the meaning in our National Anthem about Guyana being our dear, green and great land.
Our Anthem reminds our young people about our ancestors, of the heroes of yesteryear, of their pains and sacrifices. As inheritors of their legacy, we must not let those sacrifices go in vain.
DUAL CITIZENSHIP
I know that a few persons became vexed when I repeated last week what the Guyana Constitution states and what the judiciary has upheld – that a Guyanese cannot, while holding office as a Member of Parliament or a Minister of Government, be a citizen of a foreign country, or swear allegiance to a foreign power or state. This is the crux of what has become the "Dual Citizenship" issue that came to the surface last year after the no-confidence fiasco in the National Assembly.
This is the law, as it is at present. It could be changed in the future by a constitutional amendment, but for now a dual citizen is ineligible to run in parliamentary elections, or to be appointed a government minister. My own view is that a residency qualification could be prescribed to lift what is tantamount to a life-time ban on Guyanese nationals who are living in the diaspora or, like my grandsons, who were born in a foreign land, and may wish to play a role in our governance.
For now, as is, a Guyanese who wants to run for political office as an MP is not allowed to hold split loyalty towards Guyana, our Motherland. However, there are no barriers to a "dual citizen" Guyanese serving in any other posts and, where their skill-set permits, they are in demand and are most wanted.
A current example of how the door to opportunities remains open is to be found in the appointment of four former ministers who resigned their portfolios on account of their dual citizenship status, to various advisory positions relative to functions in which they have experience. There are abundant precedents for this, set by the former government, which not only put former ministers in sinecure offices, but had placed some proven political misfits on board what the regime had seen as a partisan, gravy train.
Before December 21, 2018, the status of dual citizens as regards membership of the legislature did not become a national concern, but now that it is, there should be a public process in which prospective candidates would declare their citizenship, ahead of fresh national elections. There could also be constitutional reform to vary the eligibility criteria for membership in the National Assembly if there, is broad support for this.
NO COMPROMISE
After 53 years of independent, sovereign, free nationhood, we have to take our citizenship status seriously. Unless our law changes, our young people have to be vigilant and not allow, now or in the future, an under-cover foreign agent to unseat the country's lawfully-elected government; or derail our glorious system of multi-party, plural and open democracy, which the coalition government has restored over these past years.
There can be no compromise on our love for Guyana, and our commitment to her ideals of a good life for all. It is in this context that I find appealing the slogan, "Patria O Muerte!" (Country or Death!)