…empowers women and children
IMOGEN Pydanna Ferdinand is doing a lot of community work behind the scenes by empowering women through counselling and utilising her house and pool to teach children how to swim.
Ferdinand is the daughter of former West Indian cricketer Robert Milton Pydanna. The Pydannas are a family of athletes, who came from humble beginnings.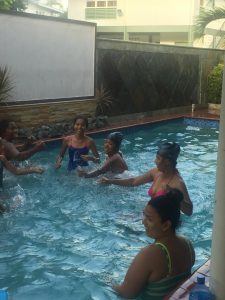 Imogen told the Pepperpot Magazine that she was motivated by the simple fact that she came from humble beginnings and growing up not having much; they lived simply and good moral values were instilled in them at a tender age.
"My parents are simple people and we were raised the same [way], but we managed to 'walk in Christ' and they have always taught us that 'to whom much is given much is required' in honour of my granny. I want to remain here as long as possible to contribute to the development of children, sports, women and my country," she said.
Imogen related that she grew up in Cumberland, Canje and she knows what it is like for athletes to have potential, but are unable to put it out anywhere.
Healthy Minds Swim School
"I also have a passion for youth development and after my husband built this pool and none of my kids wanted to use it, I decided to team up with a Peace Corps volunteer, a friend, and we started teaching children how to swim, utilising the very pool in my yard. It is more of an empowerment activity and it started growing. As we trained the children, we found that we had to move on to a club and have competitive levels," Imogen said.
She admitted that from her pool they have produced athletes who have gone to 'nationals' to compete and the Healthy Minds Swim School — which it was named — is growing.
Imogen told the Pepperpot Magazine that they take 20 students per class, but for the summer programmes, they will expand a bit to accommodate about 100 children.
She explained that this year they will be embarking on their summer programme, in which 300 children drawn from depressed areas will benefit.
"We are hoping that someone would see it fit to assist, because no non-governmental organisation has teamed up with us yet. We have just one Peace Corps volunteer and our policy is that each student must teach another, that is, become a mentor; so our youngest student can teach you to swim," she said.
As regards the Caribbean Secondary Education Certificate (CSEC) students, Imogen pointed out that she has been in contact with officials from the ministry and they promised to assist this year with their summer swim programme.
She added that assistance is necessary because last year they had to use their own vehicle to transport children to and from several depressed areas as well as preparing meals and having people on the ground to ensure the children had showered and so on.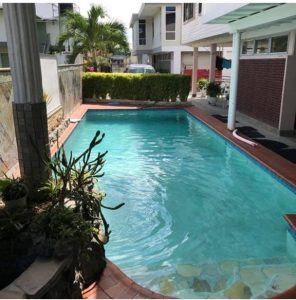 "We had a whole lot of success stories coming from this little pool – seeing the development of another person is always good, and on weekends, we accommodate students and teach them how to swim, since they see this space here as an oasis. For me, I want to see sports develop, I see sports as a tool for personal, community and national development and I am just hoping that as I am young, the government can utilise me more," Imogen said.
She stated that oftentimes children have the potential, but complain that the sports gear are expensive; with that in mind, she established a sports store which is located in New Amsterdam, where gear is sold at reasonable prices.
"Eventually, I had to let my son, who is a cricketer, manage the sports store because I ended up giving away more sports gear than I actually sold. Because I know what it's like having nothing, I remember going to the Inter-Guiana games in Barbados and I competed bare-footed, because I could not afford sports footwear. I also competed in the Inter-Guiana games in French Guiana, where I jumped on turf track without shoes and I still broke records; and when I could afford to, I bought only one-side because it was so expensive," Imogen said.
This former flight attendant added that she wanted to meet the needs of regular sports people and opened a sports store and now she sits as director, while her son is on the ground running that business, owing to his knowledge of cricket and its gear.
Social work
Imogen hopes to see more sports disciples in the county and to empower youths, because they seem to have so much idle time on their hands and she has recognised more can be done to draw these young people.
She noted that when the children are in the kitchen and she is preparing meals, it is the time you hear all the stories of what they are going through and what is happening in their homes and get a sense of how to talk to them.
The multi-talented Imogen is also a social worker by profession and that training comes in handy when counselling women and children, who are in stages of crisis in their lives.
Imogen is a natural homemaker and a firm believer in Christ and wishes to see all women escape their crises, adding that they need to talk to someone and she tries to engage women in 'pep talks' in an effort to empower them to overcome difficulties.
Although she is a Christian and goes to church, she doesn't believe in denominations and would show up in a temple or mosque just to talk to women but doesn't get too involved in 'church dealings,' all because she doesn't like the feeling of confinement and prefers to serve.
Early life
Imogen credits her success to her mother and grandmother, who were instrumental in moulding her into the person she is today.
"I chose to stay here in Guyana because all my siblings are abroad; for me it's better to be here. I wanted to develop my country. I am freer to do whatever I want in my time and to also contribute to the personal development of children and women in Berbice. This life here suits me more and my aim is to ensure that the next generation is better," she said.
She attended New Amsterdam Multilateral School, then went on to the University of Guyana some 10 years ago, but back then it was a struggle because of their financial constraints.
She is presently a resident of Prince Elizabeth Road, New Amsterdam, and has been so for the past seven years and does a lot of counselling with women and children at her home, where she has a little office.
Imogen meets with a group of women at her house every Friday and they sit and talk about what is happening in their lives and how they can help each other.
A typical day
A typical day for Imogen starts very early and even though busy, she tries not to be exceedingly busy, because she doesn't want to lose focus.
"Growing up in Cumberland, Canje, the home of cane-cutters, we used to wake early and that habit is still in me where I can no longer sleep after 3:30 am," she said.
Imogen noted that she has her 'power hour' of working out and would take a run across the Canje Bridge. She would then return home to perform her wifely duties of chores and prepare the children for school.
From 10:00hrs she would do some work in her little office at her home and at 15:30hrs daily, she is ready to teach swimming classes at the pool.
She explained that after some time of parents approaching her to assist with their children's performance in school, they came together and formed a group called the Swimmers Association, which is tasked with raising funds to help needy children.
Imogen also teaches life-saving skills to all students in an effort to empower them to save themselves and others from drowning.
"I am doing what I can and really like helping people, because some people do not see the need to help others; they are only concerned about making money and as [sic] is we are behind in helping people," she said.
Imogen's father Robert Pydanna, better known as Milton Pydanna, was a cop, a cricket coach and a West Indian cricketer.
He lives in the U.S. and coaches a U.S. junior teams there.
Pydanna played three One Day Internationals (ODI) for the West Indies. A middle or lower-order right-handed batsman and wicketkeeper, Pydanna played first-class cricket for Guyana for 17 seasons from 1970–71, and also successfully captained Berbice in domestic cricket.
He made two overseas tours with the West Indies cricket team as the reserve wicketkeeper: in 1980–81, he was understudy to David Murray in Pakistan and in 1983–84, he was second string to Jeff Dujon in India. On the first tour, he played in two One Day Internationals, hitting the winning runs in the second match, the only time he batted in his three international matches. In India, he played just once in the ODI team.