SIX years after Deon Manbodh, called Ramesh, was fatally beaten with a cricket bat to his head his 20-year-old attacker was, on Friday, found guilty of the crime.
Jonathan Budhan formally of Vreed-en-Hoop, West Coast Demerara was, on Friday, convicted by a 12-member jury for the offence of manslaughter. Budhan was initially charged with murder, which stated that on October 20, 2016, he killed 40-year-old Manbodh, at Best Village, West Coast Demerara.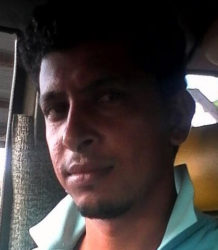 However, the jury found that Budhan was not guilty for the capital offence of murder but guilty of the lesser offence of manslaughter. Budhan's attorney, Nigel Hughes, asked the court to have probation reports prepared on his client before sentencing is passed.
In this regard, Justice Singh adjourned the matter until June 7, 2019 for sentencing. The state was represented by Prosecutors Tuanna Hardy and Abigail Gibbs.
Reports are, Budhan who was 19 at the time of the incident, lashed Ramesh, of 655 Best Village, West Coast Demerara, to the head on October 20, 2016. Ramesh was rushed to the Georgetown Public Hospital and was in a coma for five days before succumbing to his injuries.
From the testimonies made during the trial, on October 20, 2016, Budhan was with his girlfriend Bena, when her uncle, Ramesh, approached the two and 'embarrassed them in public', then took his niece away with him. The accused, who lived with his aunt, Basmattie Baksh, went home after the incident and complained to her about the public scene Ramesh created.
He told his aunt that Ramesh would constantly harass him and call him names and that he was embarrassed. The aunt, who testified in court, said that she and her nephew were waiting on the bridge of her home, to ask Ramesh what had transpired. Ramesh lived a few houses away, so he had to pass their home to get to his. When Ramesh came, the aunt said she was trying to find out from him what really happened and they agreed to walk down to the place where he confronted the couple, to find out the full details.
While they were walking, Budhan used his cricket bat and dealt a blow to Ramesh's head, causing him to fall to the ground. Baksh told the court that she did not see the bat in her nephew's hand until the incident.
Pathologist, Dr Nehaul Singh, who testified, said that the results of the post-mortem showed that Ramesh was lashed three times and that the lashes had to have been dealt with force because of the damage it caused to the head. However, Budhan said he only hit Ramesh once with his bat, and that it was out of frustration, after a series of provocation he faced from the now deceased.