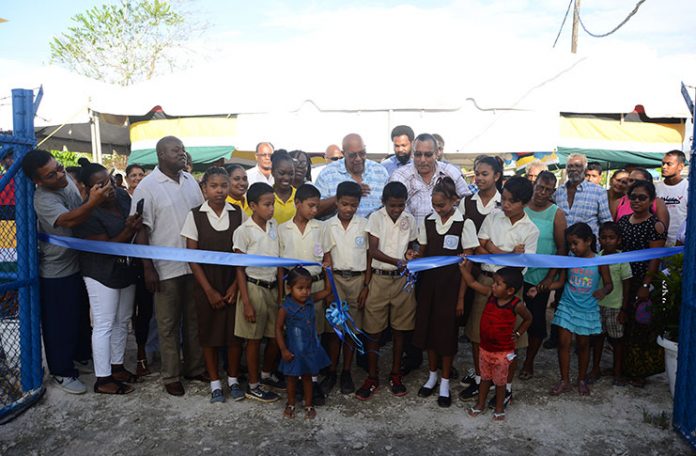 THE communities of Hubu, Naamless, Parika and some ten other villages are now set to receive high pressured, better quality tap water after the Guyana Water Incorporated on Thursday commissioned the rehabilitated Hubu Well Station and the Naamless Distribution Network on the East Bank of Essequibo.
Costing approximately $2 million to rehabilitate, the well will also serve the communities of Bartenstein, Blake, Grove Park, Hyde Park, Lookabu, Lookout, Mora, Salem, St Lawrence and Unity. Those communities were previously receiving water via the Vergenoegen well, and that resulted in severely low water pressure.
For many residents, with this project coming on board, it was the first time, in a long time, that they had water coming through their taps. "I actually had to fetch water from my neighbour and have a shower over at my neighbour, because they are on the southern side of the well that used to get water certain times of the day. But as of yesterday I am getting full pressure and I am no longer going through that stress," commented 50-year old Clyde Matthews, who re-migrated to the village of St Lawrence last February.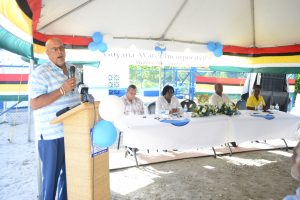 Director of the GWI Board, Mervyn Williams, noted that the well coming on stream, along with other developments on-going in the communities, in that area, is testament to the government's commitment to bringing the good life to all Guyanese. Similar sentiments were expressed by Region Three Regional Executive Officer, Jennifer Ferreira-Dougall.
"President David Granger often says he is promising a good life, water is one of the components of the good life and now it is in Region 3 in this community. I must say thank you to Dr. Van West Charles and his team for the great work they are doing not only in Region 3 but all over Guyana," Ferreira-Dougall said. Initially built in 1981 the Hubu Well had been operating intermittently over the years due to issues with the standard of water produced.
"[The Well] has good production, it produces a lot of water but GWI recognized that it had a quality issue, so this time we didn't just re-activate a well for good pressure, we re-activated the well with some treatment. So this time we would not only give the customers water with high pressure but the filters we put in place means the water will have good pressure and quality," explained GWI Regional Manager, Denise Woolford.
The reactivation of the well was brought about through the efforts of Ministry of the Presidency, Head of the Migration Office, Aubrey Norton. Norton related that it was mid 2018 that then Minister of State, Joseph Harmon sent him into the community to meet with residents and see what could be done to improve their lives. "Last year July Minister Harmon had asked me to do some work in this area. We met with residents and we committed to help; we started in front by helping them to drain it. We met again and we were discussing what were the major problems in the community and they said the next thing they wanted dealt with was water," Norton explained.
Norton immediately reached out to Managing Director of GWI, Dr. Richard Van West Charles, who got to work on addressing the issue, birthing the idea to re-activate the Hubu Well. "I decided to come and see what we can do and indeed we had a meeting and consulted with Denise and her crew. We discussed this issue and made a commitment to have the water here. I think what is important to note is the commitment of your government to address the inequities wherever they are," Van West Charles noted.
"We are moving apace in different parts of the country to address this issue. It's not simply a matter of rights but it speaks to the issue of your health. So we are looking at many, many communities." Giving remarks on behalf of the community was Lionel Seepersaud, commonly known as "Uncle Archie", who profusely thanked the Ministry of Presidency and the GWI for their tangible gesture.