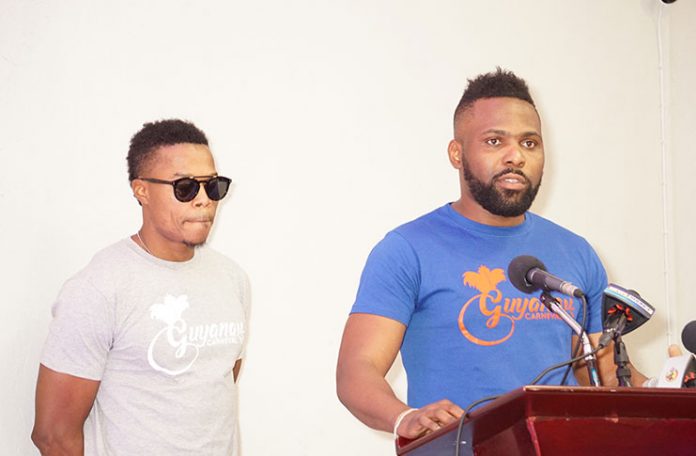 –A j'ouvert with a difference
IT IS no question that one of the most hosted events in Guyana is a 'J'ouvert'. All through the year we have seen J'ouverts coming in all different forms and concepts, all of which were well attended by the Guyanese patrons. It can be concluded that Guyanese really and truly love the J'ouvert experience.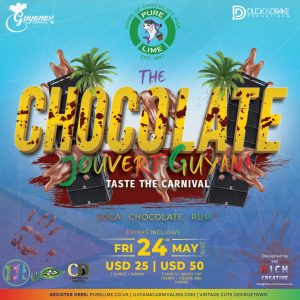 Capitalising on that, Duck and Drake Promotions, an events management team from the United Kingdom is in Guyana to bring to locals a never-experienced-before J'ouvert concept.
Dubbed "THE CHOCOLATE JOUVERT", the experience promises to be unique and enjoyable. In an interview with 'The Buzz magazine', one of the directors, Felix Walker, said that instead of water and powder, this J'ouvert will be using liquid chocolate, which is edible.
Felix said this is a UK concept that has been happening for over 23 years and they are hopeful that it will pique the interest of the Guyanese patrons, to come out and enjoy the chocolate splendor.
The event is slated for May 24th in the National Park, and is part of the Guyana Carnival activities.
One of the other directors, Patrick Joseph, said that the packages for the event are very affordable and ensures that the patrons are equipped with everything needed to have a great time.
The t-shirt package cost $5000, and gives you one t-shirt and free drinks all night, and the full package cost $10,000 and gives you a t-shirt, bag, cup, drinks and eatables.
The packages can be bought online at purelime.co.uk or can be bought at Vintage Cuts Barbers or Hj94.1 Box Office.
Additionally, Duck and Drake Promotion are the promoters of the Boat Ride that was slated for Saturday May 19th as part of the Guyana Carnival activities.
However, Joseph explained that due to difficulties with the boat, the event was replaced with a pool party.
The pool party dubbed, 'THE NIGHT COLOURS POOL PARTY' is slated for the very day, and will be held at Tower poolside.
The team expressed disappointment in having to cancel the boat ride, however, they assured that the pool party experience will suffice.
With a massive DJ line up, a fun time is guaranteed. VIKING DING DONG, GULLY RAS, SELECTOR DIAMOND, SEEN UP AND SELECTOR FACE, DJ MAGNUM AND TOP STRIKER are but a few of the entertainers that will take the stage.
The doors will be opened from 7PM and tickets are $3000. Those who would have purchased the Boat Ride tickets for $6000, will get their $3000 refund, Joseph said.