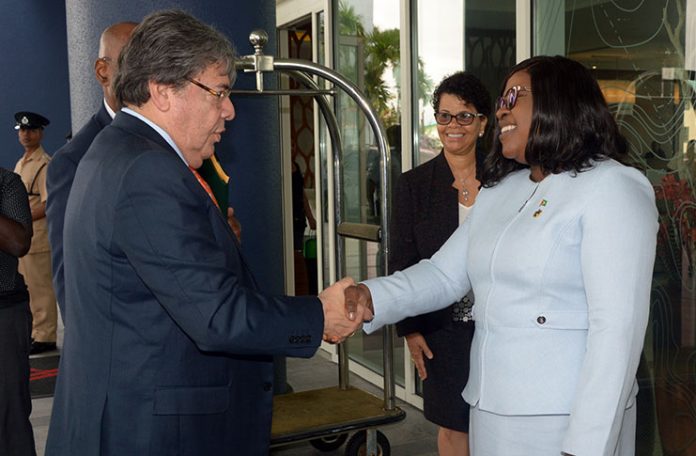 SECURITY at the Venezuelan border, Guyana's booming oil and gas industry, and the opening of a Colombian embassy here in Guyana were top items up for discussion when Foreign Affairs Minister, Karen Cummings, welcomed her Colombian counterpart, Carlos Holmes Trujillo Garcia, to Guyana on Thursday.
The two foreign ministers met at the Guyana Marriott Hotel in Kingston, Georgetown, and were able to discuss other areas of mutual interest and cooperation between the two countries.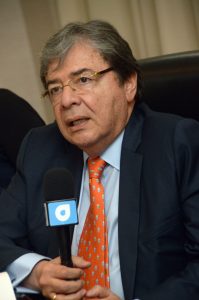 Furthermore, the inaugural CARICOM-Colombia Ministerial Meeting, scheduled to be held in Cartagena de Indias, Colombia, on June 29, was also expected to form part of the discussions.
Before the start of the meeting, Minister Cummings told reporters that she was happy that the two countries are continuing to collaborate since they established ties in 1970. It is hoped that an existing joint commission between the countries will be resuscitated, she noted.
"We'll be speaking on technical cooperation in terms of security cooperation; also with our public service, the Spanish course; and academic mobility," the minister said.
According to the Colombian minister, his government is open for cooperation on border security as it relates to issues surrounding Venezuela. "That is why I am here as well. We are going to speak about security cooperation… which has to be kind of tailor-made security agreements. That is one of the issues we are going to touch upon," he stated.
He said the reason for his visit is to deepen and strengthen the bilateral relationship between the countries, which can also include the opening of a Colombian embassy here.
"Because of some physical constraints that we have at this particular juncture… we are taking a look at it (opening an embassy) with the utmost interest."
He said his country is also open for cooperation on the oil and gas industry and that this is one of the issues that he will be bringing up with Minister Cummings at the meeting, and later, with President David Granger.
"We are open to explore rooms for cooperation in that field," he said, adding, "We are going to speak about bilateral trade, economic, and cooperation issues. We have a very wide and complete agenda that we would like to develop with the authorities here."
Interest in security at the Venezuelan border has heightened due Venezuelans fleeing to neighbouring countries like Guyana and Colombia because of severe economic crisis in the country.
Colombia has reportedly faced the brunt of the exodus of Venezuelans, with hundreds of thousands now living there.