By Tracey Khan
NAZEEMA Permaul breathed a sigh of relief after she was freed of a murder charge relating to the death, in 2017, of Lilawattie Mohammed, a domestic worker of Tain Settlement, Corentyne.
Permaul was one of three women charged with the capital offence
She spent over two years behind bars and was finally released after her lawyer applied to the High Court to have her committal squashed.She was released on May 3. She maintained her innocence and said the past two years were dreadful.
The mother said she almost lost one of her children who attempted to harm herself because of the shame the situation brought to her family. Her husband, Oliver Permaul, was also charged with Mohamed's murder and remains behind bars with two other men.
Permaul believes being freed was a second chance to get her life back on track and mend her broken family. She is maintaining a low profile and she awaits the court's decision regarding her husband's fate.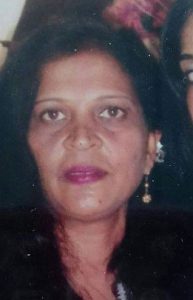 In the High Court, Justice Simone Ramlall said the magistrate was wrong to find that a sufficient case was made to put the woman on trial.
She was represented by Attorney Murseline Bacchus, who quoted a number of authorities both local and overseas and cited a number of deficiencies in the prosecution's case.
The victim, 45-year-old Mohammed, a mother of four who worked tirelessly to help herself and family was shot at point-blank range and killed by bandits who invaded her home and demanded cash. It was after telling the men that she had no money that they shot her in the face, before escaping.
However, investigators later revealed that the motive was not robbery but jealousy. It was reported that businesswoman Indira Outar allegedly placed a hit on the woman's life after suspecting the domestic worker was having an affair with her now ex-husband. She was freed of the murder charge in 2018.
The men who were hired for murder were allegedly promised $4M, but received only $400,000. Before the remainder of the money could be paid to them, investigators cracked the case after one of the men allegedly confessed and led them to his conspirators who were soon after charged.
Jamaican national Rohan Johnson called 'Jamacie' Andre James called "Tattoo man", Permaul and her husband, Shebekie Johnson and Indira Outar were all jointly charged with the indictable offense.