INTER-AMERICAN Bank (IDB) Country Representative Sophie Makonnen has stressed that technology training for girls and young women is a fundamental part of national development in an increasingly technology-dependent job sector.
Makonnen made these remarks at a 'data reveal and gala' on Saturday night. The data revealed was part of the "Girls and Technology can change Guyana" project crafted by Evie Kanhai-Gurchuran, a 2018 Young Leaders of the Americas Initiative (YLAI) Alumna.
As part of her YLAI fellowship, Gurchuran crafted a project that seeks to study the perceptions and hindrances to Information and Communication Technology (ICT) in local communities, particularly among the female population.
Subsequent to this, the empirical data (which was presented at the gala) will be used to guide project interventions.
Makonnen, who has a background in education, noted that a good investment for Guyana would be to get more girls educated in Science, Technology, Engineering and Mathematics (STEM).
"STEM disciplines are characterised to provide enabling skills and knowledge that increasingly underpin many professions and skills of a technology-based workforce," Makonnen related.
She added: "They are the disciplines that help us understand the natural world and enable us to grow a constructive world in which we can employ what we know to improve humankind. Technology training is seen as an important factor in increasing human capital such that low participation rates of women and girls may diminish of international competitiveness," she said.
While underscoring the importance of technology in a changing data-driven world, Makonnen reminded that many of the jobs today require knowledge of technology; and such will be more pronounced in the years to come.
"Girls must be provided with job-relevant skills that employers actually demand or that they can use in launching their own business," the IDB representative stressed and added that "In the case of Guyana that is even more important because the job market is going to boom and change."
And to facilitate this necessary development of education which further integrates technology, she said it is important that the job market and school system work in tandem to ensure the success of the Guyanese workforce.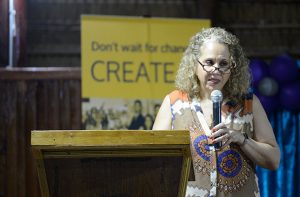 "By 2025, 75 per cent of the jobs in the world are going to require some skills in using the computer, in using a tablet and using the Internet and knowing how to navigate these," Public Telecommunications Minister Catherine Hughes related at a recent event geared at getting youth involved in ICT.
The study conducted by Evie and her team showed that the top three ICT interests of the 227 persons interviewed emerged as e-commerce, graphic designing and software development.
This aligns with the general move to digitise businesses globally and underscores that persons in Guyana are cognisant of these trends and would learn more.
However, 68 per cent of the female respondents indicated that they did not have the financial support for learning technological skills.
The study also showed, according to Evie, that females want more after-school programmes and scholarships and camps to learn about ICT.
And with the data ready for consumption, Evie noted that stakeholders who have the resources — such as the IDB — would be in a better position to craft programmes that would help foster the development of girls in ICT.
"The emphasis on girls' education needs to focus on how to build better pathways and bridge the job market with access to high quality technological opportunities which are needed," Sophie opined also.
She also stressed that there needs to be a change in mindset since globally there is low participation of girls in STEM because these areas are not seen as traditional study areas for females.
In so doing, she further opined that gender stereotypes in education will be overcome and gender discrimination in the workforce would be diminished.