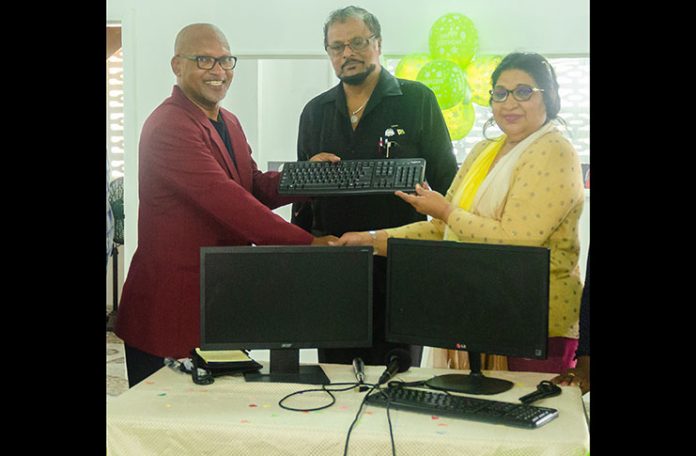 MINING company, Tesouro Resources, on Monday, made a donation of seven computers to the Shaheed Girls Orphanage in support of the re-establishment of an Information Technology (IT) laboratory at the orphanage.
The orphanage re-opened to a new building last month after the original building was gutted by fire last October.
The donation marks Tesouro's continued longstanding relationship with the Shaheed and many other orphanages. The company had made an initial donation of computers to the orphanage last year May; however, everything in the building was destroyed in the October fire.
By donating the systems which together cost some $650,000, Tesouro saw it fitting to see that the orphanage's information technology laboratory is restored.
Tesouro General Manager, Jaswick Williams, handed over the units to the orphanage's consultant, Roshan Khan, and Chief Executive Officer, Raheema Rahaman, at its Oleander Gardens location.
Also representing Tesouro was Human Resources Officer, Arlington Samuels, and Procurement Officer, Esan Sekou.
Aside from the seven computers, a printer was also donated to the laboratory and chairs were provided for the computer stations.
"We have been in partnership with this orphanage as well as several other orphanages for some time now. We have a very strong partnership with this one, especially, so we saw the need to help them to this regard. Last year, we challenged them to come up with a project for approximately $1 million and what we wanted were projects that were sustainable and this was extremely beneficial to the children," Williams said.
Williams noted that it has been some five years now that the company has been working with the administrators of the orphanage, continuously making donations of clothing, footwear, food stuff and other educational materials.
The orphanage currently provides for some 18 girls between the ages of four – 17.
Rahaman called the donation "timely" and thanked the company for its continued benevolence.