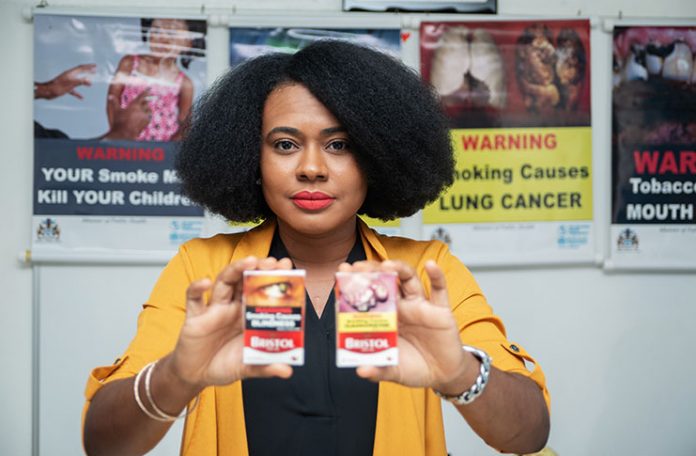 …cigarette importer barred after failing to comply with tobacco law
…several others given until August to get in line with packaging requirements
AN importer, who has shown scant regard to the Tobacco Packaging and Labeling Regulations, has been barred from selling hundreds of cartons of cigarettes in the local market, Public Health officials have disclosed.
Other importers of tobacco products, who have modified their packages and labels to include graphic health warnings in an attempt to comply with the regulations, have been given up to August 31, 2019 to make all necessary corrections for full compliance.
In an interview on Tuesday, Ministry of Public Health National Tobacco Control Focal Point, Dr. Kavita Singh, told the Guyana Chronicle that an importer wrote Public Health Minister Volda Lawrence on April 26, 2019 seeking permission for hundreds of cases of cigarettes to be allowed on the local market, though the packages and labels of those cigarettes are in total breach of the Tobacco Control Act. None of the packages reportedly bears graphic health warnings as stipulated in the Act.
In the letter to the Public Health Minister, the company reportedly explained that it had no knowledge of the Tobacco Packaging and Labeling Regulations. It reportedly requested a period of nine months to sell the non-compliant products on the local market but the request has been denied.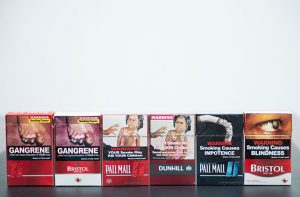 "It is in the country, but whatever he (the importer) does with them, I can assure you it wouldn't be sold on our market because they do not have any graphic health warnings," Dr. Singh told this newspaper.
Adding that it is a "no, no" for the Public Health Ministry, Dr. Singh said the importer would have to ship the cigarettes back to the country of origin or another location or discard of them.
The Tobacco Control Act came into effect in August, 2017 after the bill was passed in the National Assembly in July that year. Part VII of the Act stipulates that prescribed rotating pictorial and text health warnings must be permanently displayed on a minimum of 60 per cent of the top portion of each principal display area of any tobacco product's outside packaging. These packages and labels are required to be in English.
Labels and packaging
Dr. Singh explained that while the legislation was in effect since August 2017, the Tobacco Packaging and Labeling Regulations came into force on May 26, 2018, and in keeping with the Act, companies and importers of tobacco products were given nine months from May 26, 2018 to be fully compliant. It therefore meant that all packages of tobacco products were required to have graphic health images by February 25, 2019.
Dr. Singh said as stipulated in the Act, the Public Health Ministry provided the companies and importers with two schedules (A and B) comprising two sets of four graphic health images to be placed on the packages of the tobacco products for a period of 12 months per scheduled. The schedules are to be rotated.
She said while there are four images in each schedule, they must be used evenly. "The images from both sets must be spread evenly across all packages, meaning if you are doing a thousand packages of a Bristol, 250 packages must be attributable to each of the images. You cannot decide, okay, I like this image better and I am going to do this one.
The country reserves the right then to say that you cannot sell all these packages because they are not fully compliant with the law," the National Tobacco Control Focal Point made clear.
However, while the companies and importers submitted their packages and labels to the Public Health Ministry for review, they did not submit the final packages and labels before releasing them onto the local market.
"Three months prior to the packaging and labeling regulations, there were supposed to say to us these are the packages that will be on the market. Three months before, the reviews were made but they never submitted the end product but they placed it on the market, and we saw packages carrying words like full flavored," Dr. Singh explained.
It was noted that while most of the importers placed the graphic health images on the packages, there were other texts and images that were included in total contravention of the law.
Part VII (5) of the Act states: "The unit package and outside packaging and labelling, and the design and appearance of any tobacco product shall not promote that product by any means that are false, misleading, deceptive or likely to create an erroneous impression about the product's characteristics, health effects, hazards or emissions, including using – (a) any term, descriptor, trademark, figurative, colour, number, or other sign of any kind that directly or indirectly creates or is likely to create the false impression that a particular tobacco product is less harmful than another; including terms such as, but not limited to, 'low tar', 'light', 'ultra-light' or 'mild', 'smooth', 'natural', 'fine', 'extra fine', 'extra', 'ultra'."
Non-compliant
In a separate interview, Attorney-at-Law and Legal Adviser on Tobacco Control to the Public Health Ministry, Kesaundra Alves, explained that while the images were placed on the boxes, the remaining 40 per cent, which should comprise name of the company and its logo, included other promotional information and images.
"The majority of them placed these graphic health warnings on their packages but they did not necessarily comply with the regulations, so, some of the images were stretched out and did not look like the images we had given them. Some of them used their 40 per cent to advertise, and as you know, in the Act, Tobacco advertisement, promotion and sponsorship are banned entirely," Alves explained
Because words such as 'light,' 'filter,' and 'green' found themselves on the modified packages and labels, and the graphic health images poorly placed in some instances, the importers and companies during a recent meeting with Public Health Officials on April 1, 2019 were given up to August 31, 2019 to ensure that their products are fully compliant. "If there is no graphic health warning and you didn't make any attempt at all, the product will not be allowed on the market. If we see that you made an effort but you still did some things wrong, a grace period was given during which period we will not pull that product from the market," the Legal Adviser explained.
Once August 31 passes, Alves assured that there will be a complete ban on tobacco products with defective packages and labels. Such products, she explained, would be seized or denied entry into Guyana.
It was noted that while there have been defective packages in this first schedule (A), companies and importers have submitted fully compliant packages and labels for the second schedule (B), which will be gradually phased in from October.
Black market
While there have been new brands popping up in the Local Tobacco Industry, the Legal Adviser rebuffed claims that the enforcement of the Tobacco Control Legislation has resulted in a surge in the "black market."
"Truth be told that argument is used by the Tobacco Industry throughout the world to try to delay or stymie any movement towards the passage of Tobacco Control Legislation, for the most part it is a fallacy," she said.
Alves said while there are contrabands from Suriname entering Guyana, the Tobacco Industry has "magnified" the issue across the world for their business. In Guyana, she said it is becoming more and more difficult for contrabands to enter the country undetected due to the use of the Excise Stamp by the Guyana Revenue Authority (GRA). "That wasn't in our act but it is a measure taken by GRA but it is a very good measure, and you could tell, quite easily whether it is an illicit tobacco product or whether it came through some valid legal channel," she posited.