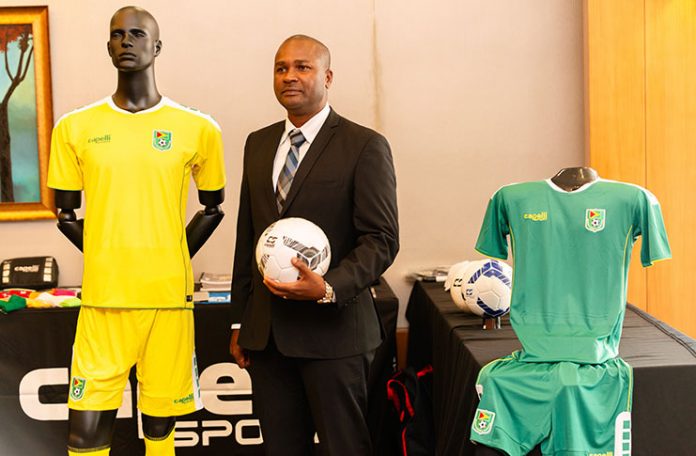 SPORTSWEAR manufacturer Capelli Sports is the Golden Jaguars' kit supplier for the June 15 – July 7 CONCACAF Gold Cup.
The kit, which will be worn by Guyana during their maiden Golden Cup appearance, was unveiled yesterday at the Marriott Hotel in Georgetown, following the opening of the FIFA Conference on Development.
While president of the Guyana Football Federation (GFF) Wayne Forde didn't divulge much information surrounding the deal, he noted that they're "working through just a few bits and pieces with Capelli Sports; but no doubt there's a commitment on both parties that there will be an agreement that we will announce – some of the details – once the dotted lines are signed off."
"We believe that we've been able to establish a remarkable working relationship with Capelli … at the heart of our discussion has been where we are as a federation and the support we need to grow the sport from the grassroots level, straight up to the senior team," Forde said.
Guyana will open their 2019 CONCACAF Gold Cup campaign against defending champions USA on June 18 at the Allianz Field in Minneapolis.
Golden Jaguars were drawn in Group D of the 16-team tournament, with the defending champions (USA), Panama and Trinidad and Tobago.
Following their June 18 opener, coach Michael Johnson and his squad will travel to Cleveland to take on Panama on June 22 at the FirstEnergy Stadium then play their final group game against regional rivals, Trinidad and Tobago, on June 26 at the Children's Mercy Park in Kansas.