WHEN Steve Josiah leaves his home to go fishing, he does not have any intention of returning home empty-handed. Armed with a five-gallon plastic bucket and his cast net, he leaps onto his bicycle and starts his day of fishing as a pastime.
He is a resident of Bare Root, East Coast Demerara, and when the Pepperpot Magazine visited the area by noon on that day, he had his catch of patwa, tilapia and hassar, which he planned to use to make curry to go along with some cooked brown rice.
A man in his mid-50s, Josiah said that he has been a resident for the past 15 years and when he is at home, he finds things to do with his spare time such as fishing and gardening.
A miner by profession, Josiah has been home for some time due to adverse weather conditions in the hinterland and was quite pleased with himself for getting a handsome catch.
Casting his net in the trench along Grant Road, he caught a few sizable patwas and was optimistic he would get more as he moved along the trenches in the village.
"I does catch me lil fish and thing because trench fish very good you know, and it is a way to pass time rather than doing nothing; it has become one of my hobbies," Josiah said.
He described life in Bare Root as 'normal,' once you find something to do. He observed that he is pleased with the clearing of canals and trenches in the community.
Josiah stated that over a week now he has noticed a hymac clearing the clogged and weed-infested drains, canals and trenches in Bare Root and that is something of progress which will alleviate flooding.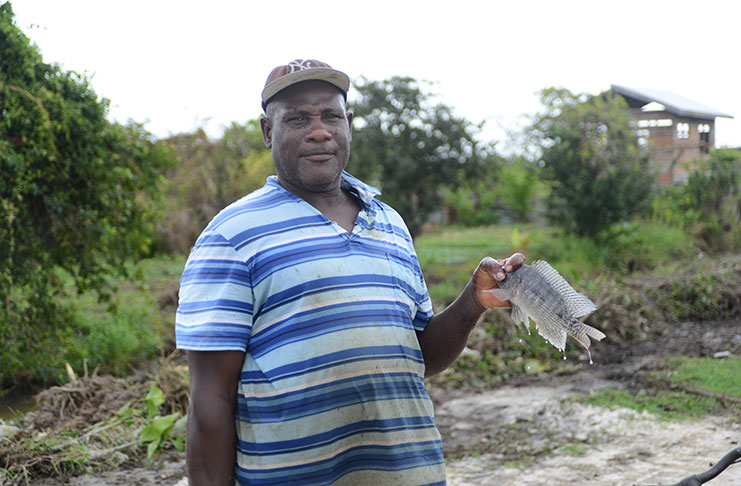 The big man added that a bobcat was aback the village also clearing the canals along Grant Road.
"Me does be in the interior a lot, so this is the longest time I am out here and I does make do and I like to fish and talk with my neighbours, because you got to talk about things happening around you," Josiah said.
He is, however, concerned about the state of the roads in the village which needs urgent attention; he is of the hope that the current administration will deliver, because they visited that village earlier this year and held a meeting with residents.
Villagers were also informed that within two months they will receive certificates of land titles, which will legitimise their land ownership and they were pleased.
Being a countryman, he has seen many changes with the youths in the village, whom he said are doing something to make a living.
He said one of his daughters sells fish cakes and egg balls among other things in the village at her corner-stand, which supports her family.
"I am the father of five children, I got my first child when I was in the army and stationed in Lethem. I met a lovely Amerindian woman and that union produced my first born and then when I was stationed in Berbice, I met another Amerindian lady and she got a daughter for me. I spend 15 years in the army as a mechanic, then I quit and went into mining," Josiah said.
He told the Pepperpot Magazine that he does not idle and when at home he is active in his kitchen garden where he reaps boulanger, tomatoes and other vegetables, which he would consume.
"Me don't punish, look yesterday me cook lil calaloo fry up with lil dhal and thing and it was lovely and me alright you know. Plenty youth men also farming in this village and they does sell their produce within the community," he said.
Josiah related that almost every household plant and eat whatever is in season from their vegetable gardens, and they also rear pigs, goats, sheep, cows, ducks and chickens; so they don't have to go out the village for meat and milk.
He stated that he doesn't count time when it comes to fishing, because he enjoys doing it and at the same time it gives him a chance to talk to his fellow villagers.
Although he wasn't sure how big his catch would be, he was nevertheless quite happy to be outdoors.