SIXTY-NINE-YEAR-OLD Negla Garraway refuses to just sit by idly and watch the world go by, as such, she is doing her bit in her community.
The owner of a thriving corner shop at the head of Bare Root Village, East Coast Demerara, Garraway sees her small business where she retails the vegetables home-grown by villagers as a service to the village.
"In order to live and let live, we must support each other and it's like 'hand wash hand, make hand clean' and I am selling the vegetables provided by my fellow residents, because it is necessary to make a contribution in everybody's lives," she said.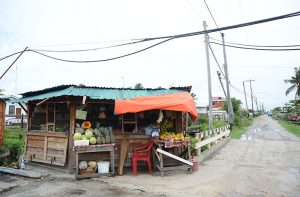 Garraway related that the village people are cooperative, adding that individually and collectively they are all trying to make the most of their lives.
"At 69, I am not just going to sit and wait my time out. My little shop serves as the one-stop shop for villagers and I am pleased I can provide this service to this community, because I have the time and I choose to spend it this way," she said.
This elderly woman can be described as the 'village mentor,' because she always lends a listening ear and wise word to anyone who needs a pep talk or chat.
Garraway's shop, which sits at the four-corner of the Bare Root village, has every little thing that is required in our everyday life from salted-fish to ginger to ground provisions, as well as fruits and vegetables among other things.
"I born and grew up in this community and I will grow old here. I am an ex-soldier. I get big now and I decide to relax and do my own thing. I opened a greens shop and I am getting full support from the community. It was established one and a half years ago," Garraway said.
Her shop opens daily and closes late into the night to cater to working people and at times, Garraway has her son in the shop who assists her in opening and closing the doors. Garraway's home is a stone's throw away and it is convenient for her to spend most days at her shop. Just next door, her daughter and granddaughter both own businesses of their own as well.
When asked about what's her concern about Bare Root, she did not hesitate to express herself to the Pepperpot Magazine.
"My concern about this community is that we don't have farmlands, so residents cannot go into large-scale farming and as you can see, almost every household plants. We made representations to both the previous and current governments and they said they will look into it. No community is viable without farmlands and these lands here were given to us by our foreparents/ancestors and we need to cultivate crops to sustain ourselves," Garraway said.
She added that lands are needed for farming, because a lot of villagers would like to do large- scale farming and cannot do it presently, owing it to a lack of space.
Garraway said, "You cannot inconvenience other people by rearing hundreds of chickens or pigs in your yard. It is not healthy and will not work, so efforts of entrepreneurship are being stymied in Bare Root and that has to change. We need our farmlands to survive because our livelihood depends on it."
This able-bodied citizen pointed out that more emphasis should also be placed on youths, with regards to recreation, since they have no place for games.
She is of the view that a sizeable plot of land can be allocated from farther into the backlands or from the rear of the village.
Garraway opined too that an ICT hub is also essential in the community and can enhance the lives of youths; she is thinking more along the line of a mobile unit where young people can go and be informed.
Fish and Chips for Bare Rooters
Garraway's granddaughter Hope London, is poised to open her spanking new fish and chips soon at her small shop just next to her mother's sewing shop, at the head of the village.
The 21-year-old told the Pepperpot Magazine that she is realising her dream of having her own business.
Although small, this fish and chips outlet will be opened from 17:00hrs to 21:00hrs and will provide an income to support her six-month-old baby.
"I have been envisioning this for a long time and it's going to happen for me with the support of my parents and siblings. I will be successful because I don't want to depend on anyone financially," London said.
London stated that her sister has since pledged her support to help out in the shop, because at this juncture, she is unable to employ staff, just starting out.
During the day, this young lady assists her mother, who is the village seamstress with alterations of clothes and can sew as well.
"I know my business will flourish, because Bare Root is a close-knit community where people cooperate to make things happen," London said.