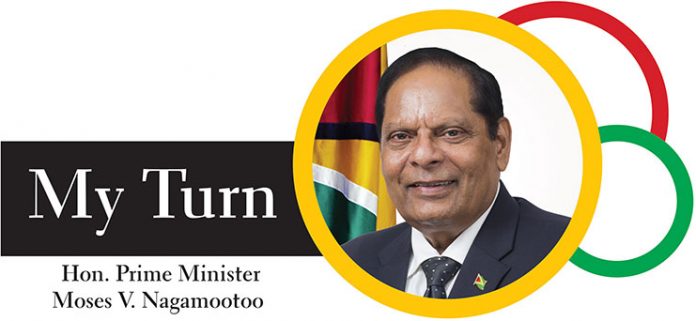 TODAY, May 5, the Indian Arrival Monument will be commissioned by the Government of Guyana in collaboration with the High Commission of India. The monument is situated in what used to be the lush-green, scenic sugarcane fields at Palmyra, on the eastern approach to the Berbice River Bridge.
The commissioning coincides today with observance of the 181st anniversary of the first batch of East Indians who landed in then British Guiana, on the East Bank of the Berbice River, for attachment to sugar plantations as labourers.
RAM AND KHAN
Conceived at first as the 5th May Monument, the designs for it were done by two Guyanese artists, Winslow Craig and Philbert Gajadhar. It shows six persons, led by two figures that represent Ram and Khan, the first two East Indians to set foot in the colony after their landing.
Each of the six figures is carrying something of significance to the Indian presence and contribution to our nation's social and economic development – a baby cradled in the arms of its mother, cutlass and grass-knife, karaahi and tawa cooking utensils, a jahaji bundle and, for sure, a drum (dholak).
According to Gajadhar, the "bhandal" contains paddy seeds, spices, herbs, jewels, and religious texts — the latter reminding us that the Indian indentured workers planted also in Guyana two of our three main religions: Hinduism and Islam.
COLLABORATIVE EFFORT
The monument project is itself a collaborative effort between successive administrations, having been started under the previous government. I give credit to then Minister of Culture, Youth and Sport, Dr. Frank Anthony, for kick-starting the preparatory landscaping work during 2013, in what was clay and bagasse swamp-lands.
During my travels in India after I had met with the eminent sculptor Ram Sutar, I assured Minister of State, retired General Vijay Kumar Singh, that our new coalition government would complete the Arrival Monument. The next year, during March 2017, Indian High Commissioner Venkatachalam Mahalingam and I unveiled a signboard with depiction of the artist's impression of the monument for the construction of the base for the 17-ton bronze structure, which is a gift from India.
Some $97 million had been allocated for the ground work, but disaster soon struck when the base collapsed, and crumbled. At that point, Minister of Public Infrastructure, David Patterson, intervened and assumed oversight of the project.
I focus on the Monument this week in view of the sustained but wholly false opposition claims being peddled, that our coalition government is anti-Indian. The opposition is stoking feelings of ethnic insecurity, and has been exploiting the unavoidable closure of four crippled sugar estates by a corporation that was bankrupted by the former corrupt regime, and even reports of isolated but controlled bug infestations of paddy fields in Berbice and Essequibo.
I would not be surprised that rather than attending the commissioning ceremony today in a show of joint collaboration in tribute to our Indian ancestors, the opposition would again indulge in picketing in its futile campaign to chase the government's leaders out of Berbice.
Today is important to applaud the labour, sacrifices and struggles of hitherto bonded East Indian labourers and their Guyanese descendants who have helped to build the base of our nationhood, became a staunch pillar of our cohesive society and a symbol of our Guyanese personality.
PORTUGUESE ARRIVAL DAY
Our common Guyanese-ness is recognised by other ethnic groupings, so much so, that I was pleased at Friday's observance of Portuguese Arrival Day when Michael Correia, aviation magnate and Honorary Consul for Portugal, proclaimed: "I am Guyanese!" He also referred to Portuguese Guyanese as "our Madeiran Portuguese".
In an interesting article that I read some years ago, Sister Mary Noel Menezes referred to a situation where the British refused to acknowledge Portuguese immigrants in the colony as Europeans. President Granger in a scholarly presentation on Friday, explained how that omission by the European ruling class accounted for Guyana being referred to as a country with six instead of five races!
Even the opposition-aligned Guyana Times, whether grudgingly or not, acknowledged the observance of Portuguese Arrival Day. It noted, "(I)t may not be a public holiday, but President David Granger so designed this day in 2017…"
A Peeping Tom from Kaieteur News, conceded: "(T)he observance is a plus for government and shows that it is far more responsive than the PPP to the sensitivities of minority ethnic groups".
ETHNICITIES RECOGNISED
Bravo, Peeper; but the truth be said, all post-independence governments have made efforts at recognising the contributions of our ethnic groupings, even in the name, shape and form of their political leaders. This is evident when the bauxite capital town, Mackenzie, was renamed "Linden" after the national leader of African ethnicity, Forbes Burnham. The Timehri airport was renamed the Cheddi Jagan International Airport after the national leader with Indian parentage, Cheddi Jagan.
In more recent times, the Convention Centre was renamed the Arthur Chung Conference Centre after a former Guyanese President of Chinese origin, Arthur Chung. The Ogle airport was renamed Eugene F. Correia international airport after a famous businessman of Portuguese origin, Eugene Correia; and the building housing the Department of Citizenship was named after Stephen Esterban Campbell, the first Amerindian parliamentarian and a national hero who fought for the land rights of indigenous peoples.
All of our peoples now observe a special occasion – Chinese Arrival Day and, in the case of our first nation, an Indigenous Peoples' Month. As recognition of Africans, we observe Emancipation Day on August 1.
HARD WORK AND THRIFT
All of our peoples, from the various ethnicities, have peculiarities fashioned by our common history, geography and nationality. No doubt we are inside the salad bowl, a mixture of several influences. But as we celebrate today, we should recognise that our Guyanese Indians have imbibed much from their ancestral culture, which is still dominant in our total way of life.
But the virtue to which I am attracted most, and to which I have referred every year at this time, is that of the Indian culture of hard work and thrift. I end by sharing a passage from the special moving tribute of George Lamming, our renowned Caribbean writer:
"…those Indian hands –whether in British Guiana or Trinidad – have fed all of us. They are, perhaps, our only jewel of a true native thrift and industry. They have taught us by example the value of money; for they respect money as only people with a high sense of communal responsibility can."
Happy Indian Arrival Day!