IT's the dancing that keeps 72-year-old Hermina Nancy Rhodius in shape and free from pain. At times, she would just grab her husband of 50 years and start dancing with him. Her love and passion for dancing has always been there.
Mrs. Rhodius did not manage to further education after leaving primary school, as she was sent out of Moruca, Santa Rosa Village to be exact, to help her family earn a living. At just 14, she came to Georgetown and picked up whatever work she could find.
This might explain why she never managed to find the time, too, to take up dancing. But wouldn't you know? At the age of 63, she started classes! And she has progressed to the point where she now assists her dance instructor, Mr. Lawrence Drake, to help newcomers learn their steps.
In an interview with The Buzz, Mrs. Rhodius recalled that the first kind of dancing she learned was the traditional Amerindian dance that her great grandmother taught her when she was a child.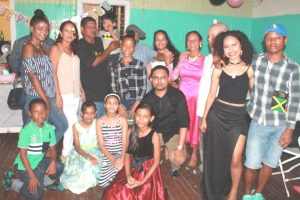 In Moruca, she recalled, she would go out to dance on occasion. "In those days, you don't go alone; mother, father, grandmother, aunt and whoever else comes along. When a gentleman came to ask you to dance, they would ask your mother or father, and then they would bring you back."
As the years passed, her love for dancing remained with her. After meeting her husband, Mr. Christleigh Rhodius, she again got the opportunity to go out and dance with him and his friends.
"I always have the radio on, and dancing. One of my sons' girlfriend came and realised I love to dance, and said to me there is a ballroom school in Queenstown," Mrs. Rhodius recalled about how she got into dancing at a school.
But when she turned up at the Terpischearam Ballroom Dancing School in Robb Street, she found that the age range of the persons she saw dancing made her feel that she didn't belong there. "When I looked on the floor, I saw younger people and said to myself, 'This is not for me; I am too old to go there.'"
But since she loved dancing so much, Mrs. Rhodius conquered the negative thoughts and decided to get registered anyhow. "It was tough at first, but I learned. And in the space of weeks, I learned to waltz. Now, I help along the new students. Whatever I know, I teach them."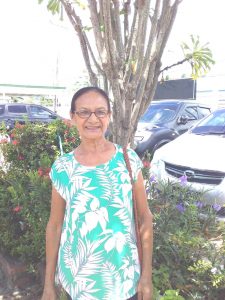 This weekend, nine persons from the school will be graduating, including Mrs. Rhodius' two granddaughters, Shakira and Sophia, whom she helped at home and at the school.
"Dancing makes me feel good if I am stressed at home. And when the pain in my body is too much, I would start dancing and forget the pain. I dance the pain out. At my age, many complain about different pains, but I don't have all that. If I'm cooking, I'm there in the kitchen dancing; if I am cleaning or washing, I am dancing. Sometimes I just pick up my husband and say let's dance. And I always say I will keep on dancing until I can't go anymore."
**Last April 12 made 50 years since Mr. and Mrs. Rhodius got married, and together they have five children, Frederick, Arthur, Sherwin, Natasha and Mark.