M&CC seeking more ways to combat littering
THE recent action by a large section of the Guyanese population to litter during the Easter celebration even though a number of garbage bins were placed at their disposal, has left authorities baffled as to just what could've caused them to ignore the facilities.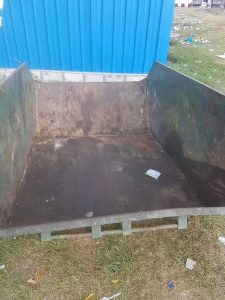 The Mayor and City Council (M&CC), anticipating that a lot of citizens would have shown up at the seawall area, between the bandstand and the Kitty Pump Station, made available six large skip bins at strategic points along the way.
Much to the dismay and horror of the officers, not one of the bins was utilised. In fact, what has been found was that wherever persons congregated, that's exactly where they left their garbage.
No one bothered to dump their waste before leaving the area, and as a consequence, garbage was scattered all along the parapets. To describe the scene as an ugly sight would be to make an understatement.
"It was a sad sight because I thought we would have moved past a society like that and would have learned of and appreciated the efforts people have been making to clean the city," Solid Waste Management Director Walter Narine expressed in an interview with the Pepperpot Magazine.
He said he felt defeated, because although expecting to find some amount of garbage on the streets, he thought he would have at least seen the bins utilised. "It just tells you that we have a long way to go to curb this behaviour pattern. It's the mindset. That's how they are, and they want to remain this way."
Narine believes that for someone to respect and care for the environment, these habits would have to be embedded from a very young age.
In the past, there has been a lot of talk about imposing stiffer fines and using a 'name-and- shame' campaign to expose those found culpable of the degrading practice. However, the M&CC for one has failed to take any concrete action.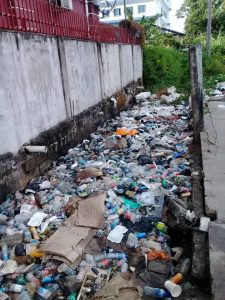 But the solid waste director said he will soon be moving to implement the new set of by-laws that were passed by the City Council not so long ago, that would see 'litter bugs' being charged $25,000, at least, when found in the act.
The newly established Solid Waste Management Committee is expected to discuss the new set of by-laws and then take them before the City Council. "It's just for the City Council to have a fresh look at them and if there are no changes, then we will move ahead with the implementation. I just need the blessings of the council and I will reach out."
Narine said this time around, he will not fail to expose the persons found in the act. "We just have to make a few persons examples. I'm not going to bother with any organisation or anyone who say we shouldn't shame those people. Put their pictures up and let people see they're litterbugs."
Apart from the ugly sight that littering creates, the practice can prove to be very harmful to people, even deadly.
Leading the M&CC's Public Health Department is Dr. Suzette Reynolds, who also spoke with this publication recently on the issue. She was keen to point out that everything persons do in their environment impacts others in some way.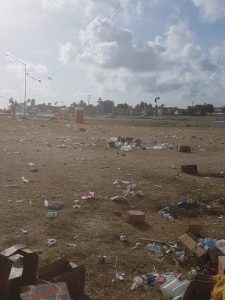 "This is especially true if we look at how waste products affect our bodies. Debris from organic waste provides us with microbiological organisms, but once we come in contact with them when they are not properly disposed of, it results in skin infections, respiratory tract infections, intestinal infections, just to name a few. The same microbes end up in surface drains and into our canals and trenches and we wonder why our children get sick after a simple swim in the canal or creek."
Reynolds called on the Guyanese population to collectively change their habits and approach towards littering. "We pass down this culture to our children, and sadly, your publication will not reach the arrogant majority who are culpable."
Repugnant
While authorities continue to complain that flooding in Georgetown is largely due to littering by citizens, such as someone throwing a plastic bottle out of a moving vehicle into a drain or canal, some Guyanese are refusing to change their behaviour.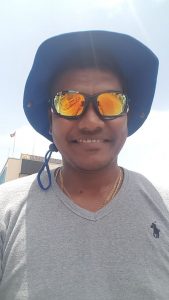 It has often been said that these very 'litter bugs' would not dare engage in such repugnant behaviour once overseas. But what exactly makes them feel comfortable, or emboldens them, to throw their garbage just about anywhere here in Guyana?
Could it be for one that authorities are lax; not strict enough? The M&CC, for instance, launched an anti-littering campaign not too long ago and even passed by-laws seeking a tremendous increase in the littering fines.
Why then are more persons not being charged and placed before the courts? Authorities have answered that the City Constabulary lacks the manpower to be able to effectively enforce such by-laws.
Chief Constable Andrew Foo has long been crying that his department is short of over 100 officers; and on one occasion, he even offered the explanation that it is difficult to recruit persons to work in the constabulary because of low salaries and other limitations.
With authorities unable to be as aggressive as they ought to be, and with citizens refusing to change their behaviour, what's next for Guyana in this respect?