BUSINESSMAN and proprietor of M&R construction was killed in the wee hours of Monday morning after the car he was driving crashed into two other vehicles on the Land of Canaan Public Road, East Bank Demerara (EBD).
Dead is 20 year-old Mahendra Ryan Deokie of Lot 4, Soesdyke EBD. Three other occupants of the car in which he was driving were among those who also sustained injuries.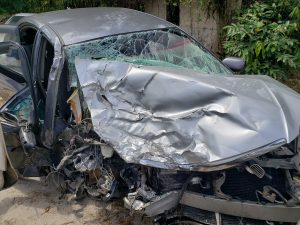 Reports indicate that Deokie was driving a motorcar bearing registration, PPP 972, south along the roadway at Land of Canaan, allegedly at a fast rate, when he lost control of the vehicle and collided with a Motor Jeep (CRV) PKK 1555 and a minibus BWW 5216 which were heading in the opposite direction.
Deokie and his friends, Nicholas Morrison, Amerita Mohanlall and Emily Persaud sustained the brunt of the injuries following the impact.
They were rushed to the Diamond hospital for medical attention; Deokie died while receiving medical attention.
His body was taken to the Lyken funeral home where it is awaiting a Post Mortem Examination as police investigations continue.
Injured persons from the minibus and jeep were also taken to the hospital, treated and are being monitored.
Police said that the other drivers passed breathalyzer tests and are assisting with the investigation.
Forty three- year-old Parmanand Deokie told this publication that he last spoke to his son after midnight and informed him that he was home.
His son did not go into details of his whereabouts and that was the last he heard of him.
"His grandmother called me and told me that he was involved in a fatal accident…my son was a good person who lighted up anyone's life he came into contact with, anyone in Soesdyke can tell the type of person he is," his father lamented.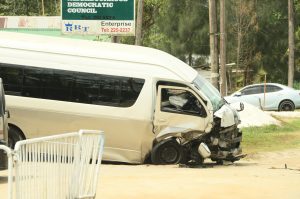 There has been a 20.8% increase in fatal accidents and a 19.2% increase in deaths resulting from accidents for the period of January 1 to April 3, 2019, as compared to the corresponding period last year, according to the Guyana Police Force (GPF).
"One death is one too many," Deputy Commissioner of Police Nigel Hoppie was quoted as telling the heads of the Traffic Departments countrywide, during a recent meeting.
The Deputy Commissioner told traffic ranks that he understands the consideration that "enforcement" is sometimes reduced to facilitate "traffic direction" as well as the dynamics of development and how they would affect the amount of vehicles on the roads and influence the demands of the Traffic Department.
The Traffic Department has, over the weeks, been engaged in a massive education and sensitization campaign which has placed great emphasis on youths and students as well as minibus owners and operators.