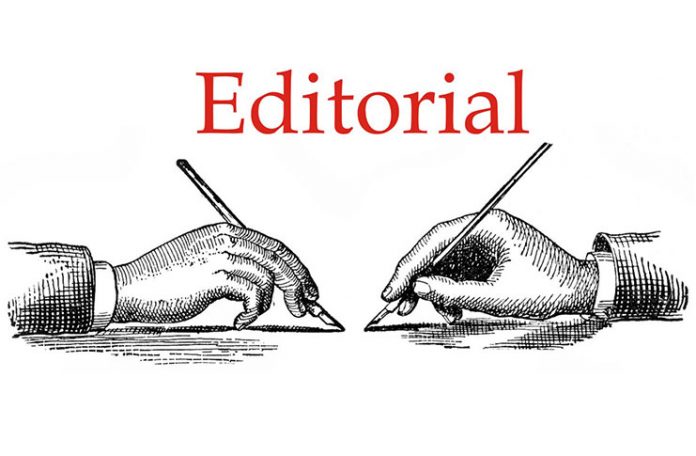 THE Guyana Police Force has been the focus of our opinion page on a number of occasions. And this is not because it is being made the subject of unfounded and malicious criticisms, or simply the target of media bashing. More importantly, as had been highlighted in the past, and again now, is because it has to be reminded that its remit is about  the most important function of any state institution – the maintenance of law and order. At the same time, it has to ensure the safety of every citizen, which means  public safety and its well-being.
It is a critical responsibility, which daily execution of its standard operating procedures must be carried out by a collective of ranks, both seniors and juniors, whose understanding of such a task must be left in no doubt as to what is required. In so doing, administration in the form of leadership is an absolute, since it is a hierarchical organisation which is predicated on clear lines of command, necessitating leading by example, at each step.
This is about discipline, coupled with the highest ideals of personal integrity and professionalism that must begin from the command structure, and which example must be accepted, followed, and practised by junior officers and the ranks that follow. In clear, simple terms and unambiguous language, this is about upholding the law which each entrant has sworn to do, ensuring that there is no compromise in the manner of the execution of this foremost duty.
It explains why President David Granger had insisted on an "unbribable" police commissioner while he had been awaiting the recommendations of the Police Service Commission for the key position in the GPF. It was one of the most seminal issues in his coalition government's efforts at a complete overhaul of the national police agency, spearheaded by the Security Sector Reform Programme (SSRP), rejected by the former People's Progressive Party/Civic (PPP/C) administration.
As a nation, it is public knowledge as to the issue of corruption with one of its major centre pieces, bribery. The latter is among the myriad venalities and what it has done to Guyana, particularly in severely damaging the image of the GPF, and destroying citizens' trust in the force's professionalism. It is no secret of the numerous police ranks whose services have been terminated, after departmental enquiries found them culpable for bribery. But, the fact that Police Commissioner Leslie James has recently had to expound on its hydra-headed existence within the force, and its intention to root out this scourge, underlines that it is still a challenge, although its incidence has been reduced, due to the removal of several corrupt policemen/women.
It is both instructive and significant that he has spoken about the other guilty party – the public; those who offer bribes, emphasising that for there to be an acceptance, "there has to be an "offer,'' referring to those members of the public that Commissioner James said would attract the attention of his investigators. And we totally agree with this observation and intended action against this equally guilty party; for they are just as significant a part of perpetrating this criminal offence, as the police rank that accepts.
So often, there are accusations from the public of bribery being committed by some police officers during the execution of their daily duties. Though these charges have been true, it mostly gives the impression that it is the ranks who requested or demanded the bribe.
But often, it is the other way around, if one is to understand clearly what the commissioner explained. Therefore, not only has there been hypocrisy on the part of many of those who go public with their accusations/allegations against the police; but that they are guilty, and that the time has come for condign action to be taken against them, as would be against errant police officers.
A police force in which bribery is a culture among police officers of any rank, is one that loses its effectiveness in carrying out the law against those who transgressed. Further, it allows for the continued perpetuation of law- breaking with impunity by the guilty party, because of a belief by the perpetrators of being above its maxim. These are coupled with the distorted view that the law can be bought for a price.
The fact is, that bribes of any kind, whether solicited by a rank or as an inducement from a member of the public, to be undertaken by especially a member of any law-enforcement agency is a most serious offence, since it is contrived to defeat the course of justice, often resulting in injustice done to another citizen. Such an illegal act strikes against the very mission of that institution – maintenance of law and order. It lowers respect for the particular agency and diminishes esteem for the corps of officers, irrespective of seniority. And this includes those who are the guilty parties.
Notwithstanding the fact that there has always been the perennial complaint of low emoluments being paid police agents as being the cause of the incidence of bribery, one must be reminded of Commissioner James's observation that persons entering the GPF were/are fully aware as to that aspect of their conditions of service, and should therefore leave if dissatisfied. It is a position which we support, since any citizen who becomes a policeman/woman for the purpose of making bribery a daily part of their functions, cannot be serious about their roles in combatting crime. At best, their illegality adds to its daily occurrence, for the guilty goes free.
Therefore, both parties are guilty and must be punished accordingly; and Commissioner James must be commended for deciding to take a stand not only against his policemen/women, but also against those citizens who attempt to subvert his agents.