Linden Foundation wins close battle against Mackenzie High
By Joe chapman
LINDEN Foundation Secondary earned a thrilling 37-36 overtime win against Mackenzie High School when the Linden Town Week Secondary Schools basketball championship got underway
That was game two of a double-header which also featured Christianburg-Wismar Secondary stopping New Silvercity Secondary 38-26 at the Mackenzie High School basketball court.
In the opening game of the tournament 'Multi' began their quest for glory on a winning note behind a top score of 17 points from guard, Kobe Tappin.
Support came from Odennie Reece with 11 and Daniel Hutson with six.
Delroy Belle was outstanding for the New Silvercity Secondary side with 15 points as Omar Green chipped in with eight.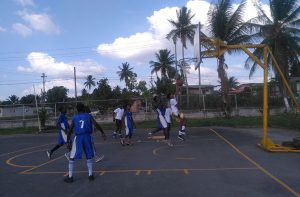 In the other game, the scores were tied at 30 apiece when regulation period ended, but Linden Foundation, led by Emmanuel Larose who scored 23 points, was able to overcome the challenge of Mackenzie High.
Larose had Leon Thom supporting with 10 points.
For the Mackenzie High, Savoury Suaving played well for 10 points and Ming Wong also had a good performance, chipping in with eight.
Today, from 14:30hrs, New Silver City will face Wisburg in a must-win situation if they are to have any chances of reaching the semifinals.
In the second game of the double-header, Linden Foundation Secondary will play against Linden Technical Institute with a win sealing the former's place in the final four.
The group play has Wisburg Secondary, New Silvercity Secondary and Christianburg-Wismar Secondary in one group and the other comprises Mackenzie High, Linden Technical Institute and Linden Foundation Secondary.