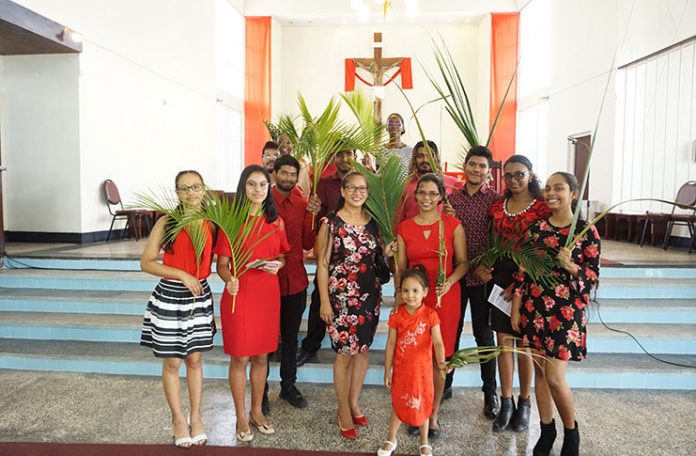 MEMBERS of Our Lady of Fatima Catholic Church, on North Road, Bourda here in the city, on Sunday joined the Christian community the world over in celebrating Palm Sunday celebrations yesterday. The event saw young and old holding aloft and waving palm fronds fashioned into all styles and shapes, as the church held their morning mass and had the symbolic blessing of the palm.
Palm Sunday ushers in the Holy Week celebrations which culminate on Easter Sunday. It is the first day of Holy Week, when Christians remember how Jesus entered Jerusalem riding on a donkey.
It is called Palm Sunday, because the people were so happy to see Jesus that they took branches from the Palm and Olive trees that lined the road and waved them in the air shouting, 'Hosanna' (which means 'God Saves' in Hebrew) and put some of them on the road to make it easier for the donkey to walk on the rocky road.
Today, to remember that day, Christians all over the world go to special Palm Sunday Church Services. They often receive small crosses made from Palm leaves or other local woods. Palm Sunday is sometimes called Passion Sunday as Holy Week reminds us of Jesus's passion or death.