Taking it easy even in the most stressful situations
SURROUNDED by the beautiful Mon Repos countryside way out at the seashore, with unlimited workshop space, as a boat builder, Balram Sookdeo, also known as Sean, seemed very relaxed and willing to just chat when the Pepperpot Magazine visited his work site by the seashore.
Sean began his boat-building career when he was 15 years old; he is now 27; he got married at age 19 and has two children.
"This is the business that I grew up seeing; my father and the older folks used to do it and so I just learnt what to do and how to do it from observing them as a small child," Sean stated.
He told the Pepperpot Magazine that he was born and raised in the village of Mon Repos. He added that from an early age he saw his father and other family members, along with others from the community, building boats right out by the seashore and grew to like the idea very much.
"Eventually from the age of 15, I started to work along with them [his father and others] and soon they would leave me to do some work on my own. Then more and more I was able to work on things such as repairing of fishing boats and other boats too; and then I advanced to making small and big boats, which are used for fishing and other things," he stated.
INDUSTRIAL SCENE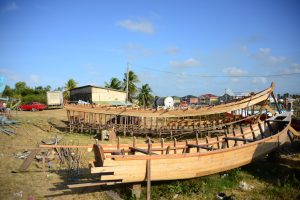 There were many men at the construction site, all of them working on different boats – some repairing, while others were building them from scratch. It was really an industrial atmosphere – boats being made or repaired; vehicles arriving to make sure they catch the first fishing boat in with their catch; while there were men at the Men Repos pumping station. There some were relaxing, while others were busy with whatever they felt the need to work on, so as to ensure that the pump was in ready mode once there was a need.
Sean explained to the Pepperpot Magazine that to build a boat is not a simple task, but with time it became easy for him. "Yet still there are some real hard ones sometimes for me to handle, but I do not back down and in the end, I would get through with it. The thing is that you must always get the right materials to make the boat and the wood is a main man. If you do not use the correct wood, then you can cause real problems for people who have to use these boats," he reminded.
RIVER, NOT THE ROAD
He explained that the river is not the road and so if a boat develops problems way out at sea, it can end up being fatal. He added that a situation of what may be considered a simple leak may end up being a matter of life and death if the boatmen do not know what to do. In addition, consideration has been given to the distance away from where help could be sought, as well as the state of the water at the time – whether it was very rough or smooth.
Sean further explained that the making of boats also has to do with the size and the kind of engine that it would have to use, adding that it is always important to double check the measurements on the boat so as to ensure that there is strict balance on every side.
"Then again, because the boat is made strictly to go out into the water, there can be no crease – every single crease must be sealed when the boat is finished; then it has to be left to dry off and so we does be glad for the sun to dry off good and faster," he stated.
REPAIRS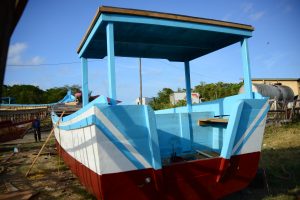 He stated that repairing a boat is just as hard work as building a new one from scratch. He added that each workman has his own way of approaching the building of any boat, and so when one has to do the repairs on a boat, it is sometimes not as straightforward. Further, he told the Pepperpot Magazine that many times they are not able to get the boat up on dry land and so have to go wait until the water goes down and then go into the deep mud to do the repairs.
"This is no easy task sometimes, but it is part of the job and so we manage to get the work done. While some of the boats to repair are easier to manage because they may be smaller and lighter, others are sometimes not so easy, and then it also depends on what is wrong with the boat," he related.
DEDICATED BOAT BUILDER
Nonetheless, Sean said that he has dedicated his life to building and repairing boats, noting that as a family man he is able to manage his business, personal life, as well as that of his family with much ease. He said that so far he has been able to make a good life for his family – the same way his father was able to do for him and the others within his household at that time.
Just as it was with past generations, Sean stated that from his experience, boat- building and repairs are definitely doing well. He noted, however, that the boat business would only do as well as the fishing business is doing at the said time.
Sean said that as boat builders they would not just be concerned with the making of boats and how good they can be made, but that they have to be concerned for each other; the fishermen out there and how safe they are; how they are managing with buying fuel; how they are able to sell their catches, and so on, while hoping for the business to continue to grow and get better.)