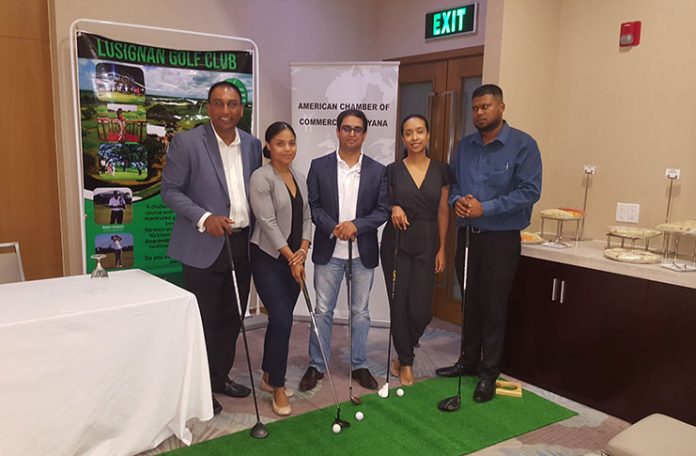 THE American Chamber of Commerce (AMCHAM) yesterday launched its inaugural Golf tournament billed for July 15.
Speaking at the launch, AMCHAM president Zulfikar Alli contended that the tournament speaks to AMCHAM's aim of promoting golf.
"We felt that we would like to see the development of the sport in Guyana and to provide an opportunity for Guyanese golfers to enjoy a good day of golfing," he said this morning.
Also in announcing the tournament, the AMCHAM boss added that the affair will be a yearly one.
President of the Lusignan Golf Club, Aleem Hussain, stated that the event is a culmination of a yearlong dream
"We believe that the AMCHAM Open will grow to become a big event. We have three major tournaments and we feel that the AMCHAM Open will be the fourth major event."
Meanwhile the company is putting up $50 000 in cash for a long drive that will dethrone the current kings AMCHAM golf rep Richard Hanif.
The event will be a family affair with activities for the kids as well as adults as well as newcomers.
Meanwhile Hanif, who confirmed the challenge added that AMCHAM sees the event as a "networking opportunity."
He noted that persons should take the opportunity to make business connections while also enjoying golf.
He also said the tournament is expected to feature golfers from Trinidad, Suriname and the United states.
The club expects to complete registration by June 2 and is urging competitors to get registered early.
The tournament will feature four categories of players – Championship 0-10, First Flight 11-20, Second Flight 21-32 (Stableford System) and Ladies Open 0-32 – all competing for the title of the AMCHAM Best Gross Player and Best Net Player Championship Cup.
Longest Drive and Nearest to the Pin contests will be organised for players, as well as special putting challenges for young players under the age of 12, with over 20 medals to be won,.