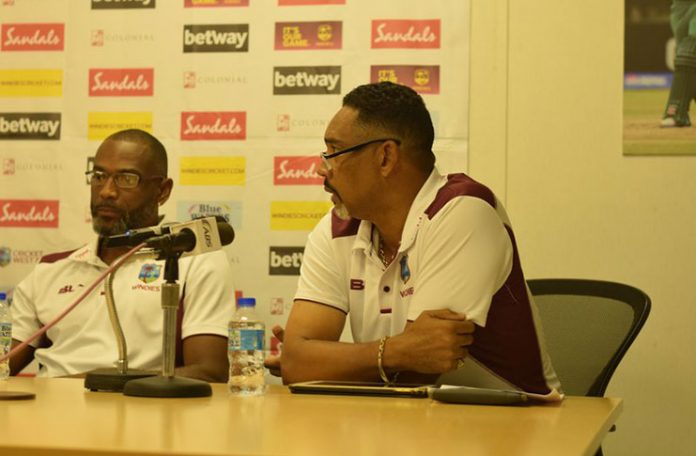 ST JOHN'S, Antigua (CMC) – Cricket West Indies (CWI) has started to chart a new course for the coaching and selection of the West Indies team with the appointments of Floyd Reifer and Robert Haynes to interim positions of head coach and chairman of its selection panel respectively, new president Ricky Skerritt said yesterday.
The widely-expected appointments of Reifer and Haynes followed a CWI board meeting on Tuesday. The two are expected to remain in the roles through the upcoming ICC Cricket World Cup 2019 England & Wales and the Windies' home series against India in July/August.
As a result, Richard Pybus, who held the position of interim head coach for the team's recent, highly-successful home series against England, is to return to his substantive role of high performance director, and the previous selection panel, headed by Courtney Browne, will be replaced.
"In order to achieve a renewed sense of purpose and excellence, difficult choices and challenging decisions have to be made, and have been made," said Skerritt during a media conference at the Coolidge Cricket Ground.
"The changes that we have triggered this week are, therefore, more than a simple change in personnel or a shake-up among the ranks. This is a calculated, strategic move designed to reignite the passion for our culture – a West Indies cricket culture that is being put back where it belongs, at the very centre."
The moves come mere weeks after Skerritt and new vice-president Dr Kishore Shallow were swept to power, aiming to put "cricket first", and embarking on a new and less contentious path for the regional governing body, when it was under the stewardship of their predecessors, Dave Cameron and Emmanuel Nanthan.
Reifer, a former Barbados and West Indies captain, is the long-standing head coach of the Combined Campuses & Colleges Marooners which won the CWI's Super50 Cup One-day competition last October.
He held a previous interim role with the Windies team on the Tour of Bangladesh last year, following the departure of previous full-time head coach Stuart Law for greener pastures with Middlesex in England.
Reifer had emerged as a leading candidate for the position ahead of others, including former Windies star opener Desmond Haynes, Women's head coach Hendy Springer and former bowling coach Roddy Estwick, among others, after he guided West Indies 'A' to a notable series victory over England 'A' two years ago in the Caribbean.
Skerritt said the decision to effect the change in the head coaching position was rooted in one of the 10 points of the 'cricket first' plan – the utilisation of West Indian professionals over foreign experience.
"It was not by accident that this policy resonated so strongly during our election campaign and in the past few days culminating in our board meeting this past Tuesday," he said. "We have consulted with many on this subject and listened carefully to most.
"While we may have had some differences in opinion, we all could agree that the move to promote the best coaches of our region is in the vital interest of West Indies cricket and the senior men's team and their preparations for the upcoming World Cup. I can tell you first-hand that participating in a World Cup is a career-defining experience for West Indies players and support staff."
The former Windies manager said: "We, therefore, believe it is strategic and more beneficial for a West Indian coach with the proven skill-sets to have this exposure at CWI's expense, rather than a foreign coach.
Our West Indian first policy is no disrespect to foreign coaches. On Tuesday, our board set a new standard that of not less than four out of every five members of the coaching and support staff should be of West Indian origin.
"This enables us to continue to have international participants still working for CWI in areas where there is no one of equal quality available in the Caribbean, but wherever there are foreign coaches assisting we will be undertaking a clear succession plan for a local replacement. Developing and exposing regional expertise in coaching is a high priority for us."
Haynes, a former Jamaica and West Indies leg-spinner, returns to the selection panel after he previously served under the chairmanship of Clyde Butts.
He would have gotten a close-up view of some regional players, after he was appointed head coach of the Jamaica Scorpions during the West Indies Championship which ended last month.
"We are pleased to confirm that we have terminated the old embedded selection policy which secretly and actively victimised some players and banished them from selection consideration," Skerritt said.
"To ensure that our new all-inclusive selection policy be implemented immediately and effectively, we have also found it necessary to make some personnel adjustments."
Haynes, Reifer and team captain Jason Holder, currently playing for Northamptonshire in the English County Championship, will form the selection panel for the Windies team that will take part in a One-day International series next month in Ireland, ahead of the World Cup.
Skeritt said Dr Shallow will head a task force to undertake a comprehensive review of the system of selection which is expected to be completed in the next three months.
He said the intention was to identify the best possible practices that can lead to the best possible outcomes.