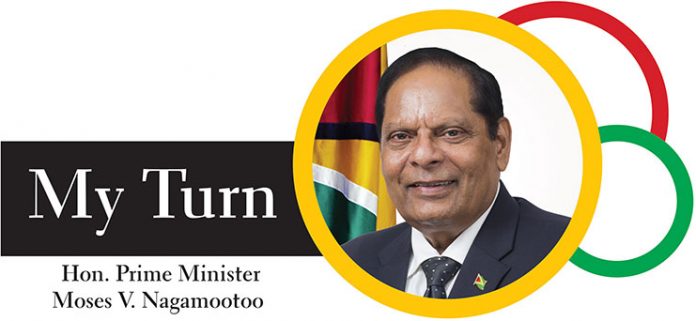 AS the cameras rolled last week while we were touring the construction site of the new Supenaam wharf at the mouth of the mighty Essequibo River, a woman approached me, saying that she wanted to let me know that wonderful things are happening in Guyana. I responded as she was about to board a speed boat, "say that to the cameras". And she smilingly did.
An hour before that the late Isahak Basir, a former parliamentarian, was telling a Town Hall meeting at the Anna Regina State House the same story of wonderful progress in Essequibo and in the rest of Guyana. That was his farewell message to Guyana.
FASTEST-GROWING ECONOMY
Those unprompted statements were made days before the announcement by the Caribbean Development Bank (CDB) that rated Guyana amongst the fasting- growing economies in the Region. According to the bank's President, Dr. William Warren Smith, Guyana recorded a 3.4 per cent growth rate for 2018.
The regional bank has been a major development partner with Guyana. Last year, it funded capital projects, including the West Demerara highway and sea and river defence, to the tune of US$352 million.
When Dr. Smith attributed economic growth in Guyana to "robust construction" I imagine that he was not speaking only to the on-and-off shore infrastructures in advance of first oil, but also to the mega projects such as the Cheddi Jagan International Airport, the East Bank and East Coast highways, etc.
While "First Oil" is around the corner, two new discoveries have been made, which brought the number of wells to 12 in the Stabroek Block area alone. One writer, Steve LeVine, in an article titled, "The surprising next oil superpower", described Guyana as being "on the cusp of becoming one of the world's wealthiest nations".
AVALANCHE OF CASH
LeVine, who stated that Guyana seemed unprepared for "the avalanche of cash coming its way", projected that the industry could initially produce 120,000 barrels of oil per day, which could jump to 750,000 by 2025. At US$60 a barrel, he added, Guyana could receive more than US$5 billion a year in revenue.
Little comments, if any, about the economic growth and additional oil potential of Guyana have come from the usually vocal chattering classes, who are ensconced in parochial interest groups, sections of the media, and in disparate and desperate political groupings. They declined to even note the radical transition of Guyana out from the underground or parallel economy, which was driven primarily by the narco-enterprise, contraband trading and illicit transactions of all types under the previous regime.
Caught up in the frenzy over prospects for premature power, they have buried the difference between constitutional compliance and constitutional certainty and sought actively to undermine the judicial processes not to establish the latter. They came up with cock-sure formulae, apparent only to themselves, of how the President and his Cabinet could disappear.
They have sheepishly accepted that an absolute majority is the same as a simple majority; that a vote of confidence is the same as a vote of no-confidence; that it is unlawful for a person who has sworn allegiance to a foreign power to become a member of parliament, but it is lawful for that illegal MP to cast a lawful vote in the parliament.
They have also buried everything good in the society that is taking place around us, and that is easily discerned by the woman on the Supenaam wharf. They are fearful that any acknowledgement of the progress in Guyana over these past months would make the APNU+AFC Coalition Government re-electable as a preferred choice to continue in office on the basis of its superior record of achievements.
BETTER DEAL FOR WORKERS
That record would include bail-out packages for the crippled sugar industry with dwindled revenues that had to be stretched to address the basic concerns of other working people – wages. The Coalition has an unbreakable record for a sustained wage increase by an average 50 per cent. As I write, new wage packages are being discussed for public servants, including teachers and nurses.
Besides beefed-up salaries, bigger disposable incomes remained in the pockets of working people as thousands more have been taken off the Income tax list. All those who earn $780,000 or less do not pay income taxes.
For those attaining the status of senior citizens, who served their country in both private and public life, they now enjoy a monthly pension of $20,500, an increase of 56 per cent over where it stood three years ago. In addition, government gave workers $50,000 Christmas Bonus in 2015 and in 2016, and a minimum $50,000 tax-free, back-pay in 2018.
The entire purchasing public benefitted from the reduction to 14 per cent of the Jagdeo-imposed 16 per cent Value Added Tax (VAT), and the inclusion of more items on the VAT-FREE list. Small businesses earning under $15 million annually are exempt from VAT compliance.
DOING BUSINESS EASIER
Doing business in Guyana has become easier, and competitive. The private sector has benefitted from reduction in corporate tax from 40% to 25%, which was denied for years.
This concession was granted in spite of the fact that collection of revenues has been undermined by several thick layers of corrupt practices, which required the new government to implement a tax-amnesty programme. About $12 billion in arrears has been collected.
The no-confidence motion controversy and the ensuing tussle over a fresh elections time-frame have come as a major distraction from the story of progress in Guyana. Whatever the legal outcome or the election time-frame, voters would have to face up to the reality of whether to oust a government that was delivering a better regime of doing business and improving their quality of life, or falling for fake politicians who, like the chutney singer wooing his lover, promised: "me go give u moon gal; me go give you gold; me go give you mo pickey to mine you when you ol'".
LEGAL FRAMEWORK AND PLAN
This is not the time, as the Finance Minister observed, to sell "snake oil" about creating 50,000 jobs in one year, opening broken sugar factories and giving sugar workers a fixed monthly salary. This is the time for serious planning on how to utilise the expected oil resources to benefit all of our people.
The Coalition Government has crafted a solid legal framework to protect our oil and gas wealth with the passage of the National Resources Fund Bill – Guyana's version of a Sovereign Wealth Fund.
In addition, the Coalition, in partnership with multilateral stakeholders, drafted a Green State Development Strategy that outlines a Plan and Vision for the first 20 years after first oil, and an outline of the exponential, great development of our country in every sector.
The APNU+AFC Coalition, in just over 1,000 days, has laid the foundation for a great Guyana. It has a winning case why it should serve out its full term, and beyond.
February 10, 2019