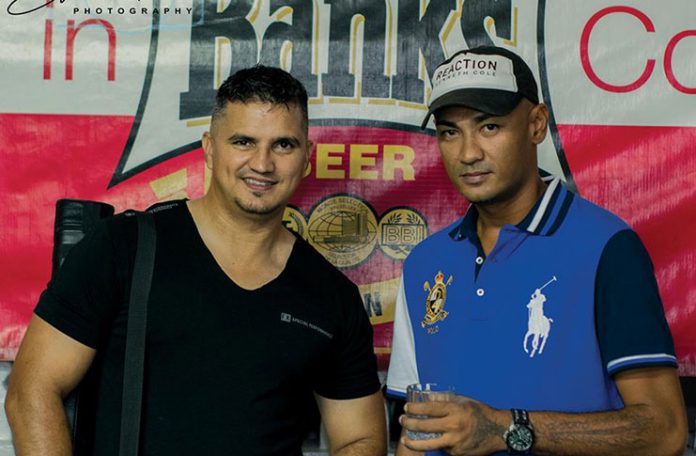 SEAN DeSouza and Anthony Xavier have booked their spots in next month's three-day pool championship which will select a national team to do battle against Trinidad and Tobago.
The pair finished first and second respectively in the first round of the Guyana Pool Committee (GPC) Banks Beer national Qualifiers, which was held on Saturday night at the Jerry's Sports Bar in Grove.
The two former national players battled past eight other players to reach the final. That game ended with a 3-0 win for DeSouza.
Up to press time, 10 other hopefuls were competing at Suraj's Bar in De Willem, East Coast Demerara, with the top two again qualifying for the championship round.
The championship, which will see the top 24 players in the country battling for supremacy, has been pushed back one weekend to March 22-24.
The GPC and their T&T counterparts are hoping to re-ignite interest in the game by batting in their own version of the Mosconi Cup (which is an annual pool tournament contested between teams representing Europe and the USA).
Although the top eight will make the national team, the top two finishers will travel to Trinidad free of cost, since their transportation, meals and entrance fees will be paid for by the GPC.
Ten other rounds are scheduled for various venues but this may be subject to change.
These venues and dates are: Shooters Bar (Anna Regina, February 15); Seepaul's Bar (Kitty, February 16); Tasha's Bar (ECD, February 17); Seeta's Bar (February 22); Bill's Bar (Goed Fortuin, February 24); The Caribbean Beat (Campbellville, March 1); Coins Restaurant and Bar (Diamond, March 2); Sunil's Bar (Mahaica, March 9); Mitra's Bar (Mon Repos, March 10) and Jerry's Bar (Grove, March 15).