– Show #22 for NCC this Sunday
DANCERS and actors trained by the Guyana Hindu Dharmic Sabha are never allowed to step on stage without first achieving perfection. Perhaps this helps to explain why each 'Naya Zamana' show, put on annually by the organisation, wows its audiences to the point where even hold-overs are sold out.
Naya Zamana, meaning "New World" or "New Generation," started in 1994 when a group of young people, headed by Dr. Vindhya Vasini Persaud, decided to put on a dance show at the 'Dharmic Kendra.'
The response was so encouraging that the friends thought of putting on another show; this time at the National Cultural Centre (NCC).
"We realised right then that there was a demand for this kind of thing. The Kendra couldn't hold the number of persons who came to see the show, so we thought why not try it at the NCC?" Dr. Persaud recalled during an interview with `The Buzz'.
Speaking from her Camp Street office, Dr. Persaud, now the director, choreographer, producer and script writer of the show, also recalled that the first NCC show was good enough to win it that year's 'National Theatre Award' and 'Best Dance and Costume' Award.
Each year, Dr. Persaud aims to add fresh choreographies and different energies to make the show more appealing. As the show continued to progress, she noticed that more and more young people were becoming interested, and she couldn't be happier at this fact.
"I think it's important for young people to be exposed to theatre and to the arts; to something like Naya Zamana that's so youth centric. Young people get caught up in so many negative activities, so if parents take their children to this kind of thing, they can use their energies in a direction like that, and it can help to combat some of the negatives we have in society," Dr. Persaud expressed.
So far, she said she has been able to find some young people with amazing talent from all across Guyana. "I teach them from scratch and when we notice potential, we hone it until they get to that point where they are ready to go on stage. When they step on stage, you will swear you are somewhere else."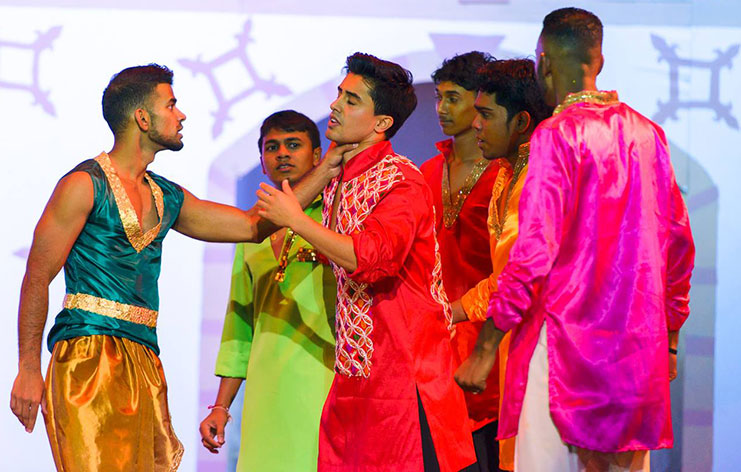 She said she views training as an important factor and is a firm believer in solid classical training. "All of the students who are on stage have learnt classical dancing and they start from as early as six years old, so they would have grown up in Naya Zamana. I believe in things like body control, proper form, understanding the stage; and I am passionate about synchrony and precision. They have grown up with me and know that discipline is a big thing. I am never satisfied with mediocrity, and they know this."
TERE BIN
This year's show is called 'Tere Bin,' meaning "Without You." "No one can say in their life they've done it all alone. There's always someone at some stage of your life who would have contributed to where you are, and it's a reminder of that; that no man is an island. And that when you're moving up in life, you shouldn't forget those who contributed."
Tere Bin, with its cutting edge choreography, will also speak to love, lost, betrayal, and romance. Modern and 'evergreen' songs of Bollywood are also to be prominently featured.
Naya Zamana evolved from a purely dance show to one that now features drama. "Every year, we try to add a different storyline and keep the stories fresh; keep the element of Bollywood films. There's also a good message in the story lines," Dr. Persaud explained.
It features modern and even historical stories, with sometimes the old romantic tales being merged with modern storylines. "Zaya Zamana uses music from all genres, so it appeals to every age, every taste. It comes together nicely with dance, drama and music."
All of the costumes used are made by Dr. Persaud's sister, Trishala Persaud, who together with a team puts them together.
Naya Zamana was taken to New York twice with almost sold-out audiences. Tickets for this year's three- hour long show will be available at the NCC on the night of the show, which is to begin at 6 pm.