IT WAS 'Stabroek Kingdom' on Wednesday as 'Dr. Mash Up' and the undeniable King of Soca, Machel Montano descended on Stabroek Square to energise Guyana for Mash and Carnival.
Regional carrier Caribbean Airlines launched its newest corporate campaign, "The Caribbean Identity", through which it intends on highlighting the rich and diverse Caribbean culture. At the Guyana launch, Machel Montano, a usual favourite of Guyanese, came to remind what some of the Caribbean culture really entails.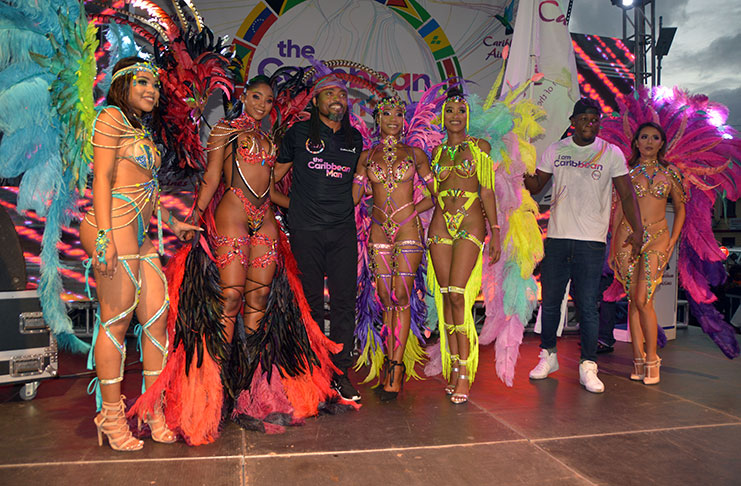 Of course, Guyana's own Timeka Marshall, the lady in pink, had to christen the stage before the "G.O.A.T. Miss Tiney Winey", got in few of her recent soca songs. But it was her unplanned "Whining Pro" that got the crowd whining on the ground and turning it around.
And, just when patrons thought the `Monk' would take the stage after Marshall, there was DJ Shizzle only hyping the crowd with Machel's music, before the he finally came on.
You know how in Guyana loudness is usually compared to market vendors? Just know that having the Stabroek Market as the venue for this concert could not have been more fitting, because when Machel finally took the stage, you couldn't have heard your own voice. And, all cellphones were in the air either going live or videoing the performance to enjoy until Mashramani.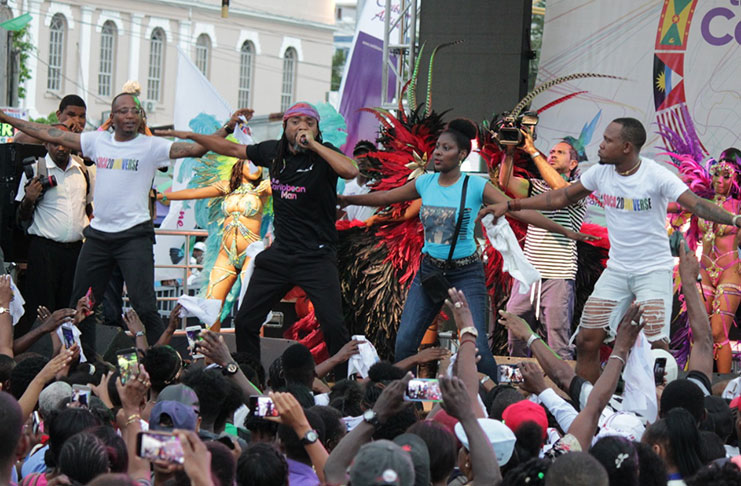 Naturally, Montano began his 40-minute long performance with the Caribbean Airlines new theme song, but that was just a temperate start to his onslaught of hype.
The trumpets from his "Like ah Boss" pierced through the cacophony, so much so that the DJ could've easily transferred his Road March contender "Release". But those songs did nothing to the crowd compared to when Famalay began blasting.
Dr. Montano himself could not contain the surge of energy that enveloped Stabroek and began 'palancing' on the stage in time to the "Famalay-lay-lay-lay-lay-lay-lay-lay-lay-lay-lay-lay".
Last year, Iwer George's pace and power song "Savannah" was ready to take the title for the Road March at Trinidad's carnival, but Mr. Fete himself sneaked in a massive collaboration with veteran "Super Blue" and took the title with his "Soca Kingdom".
In the Soca 'sesh' scene this year, both Iwer and Machel have been throwing shade at each other with their music releases. It was clear that Machel is strongly supported by Guyanese as his response song "Dr, Mashup" was sang word for word.
And of course, Machel had to remind everyone why this song took the cake last year, as he mellowed down his performance with Soca Kingdom, which, by the way, became Guyana Kingdom!