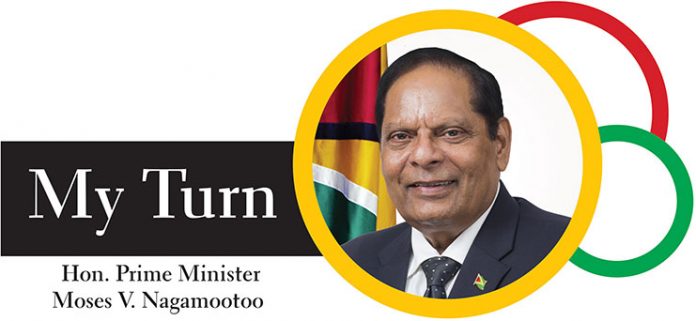 ON Friday, I made a successful visit to the Essequibo Coast for meetings with rice farmers and the business community. There was not even standing room during the town hall meeting in Anna Regina. Outside, two dozen persons staged a picketing exercise, mainly calling for "elections now."
The PPP mouthpiece, Guyana Times, manufactured "hundreds" as being on the picket line.
But that shows desperation over holding early elections that is not reflected in the genuine concerns of those who came to see us about problems in the rice sector. It was an open and frank session, at which we encouraged criticisms of shortcomings in dealing with a number of problems.
BUGS AND WATER PROBLEMS
But the regional chairman was not present. His vice-chairman was on the picket line. They couldn't care a damn about the problems being raised, nor would they want to join in the search for relief to farmers who are affected by bug infestation and water shortage. After all, they are PPP functionaries, whose main desire is the immediate removal of the APNU+AFC coalition government.
Understandably so; the events of December 21, 2018, when the speaker ruled that a motion to oust the government was carried; and the decision on January 31, 2019 by the High Court at first instance, to uphold that ruling, must have emboldened them.
They are anguished by the notion that for the government, it is "business as usual," as the government continues to reach out to the Guyanese people, presently in a fan-out splurge countrywide.
But the opposition would wish that the country were marking time, and that the period for holding fresh elections is abridged. As it is, however, the initial 90-day March 21 deadline has to be pushed back, pending the outcome of appeal proceedings and a definitive pronouncement by the elections commission on a realistic time-frame.
EARLY ELECTIONS
From all appearances, new elections cannot be ruled out in 2019, which raises concerns that the elected term of the coalition government would be cut short. But there is precedent for this.
After the 1961 elections, the PPP government under Premier Cheddi Jagan lasted three years, when elections were next held in 1964. Other elections in 1968 (Prime Minister Forbes Burnham), 2001 (President Janet Jagan) and 2015 (President Donald Ramotar) respectively were held just after 3 ½ years.
There may be other scenarios that are unfolding, that could run side by side with an option for early elections. These include a cooling-off interval for the intervening judicial appeal processes to be completed, inter-party, government-opposition dialogue on a practical election time-frame and uncertainty surrounding preparedness by GECOM to meet any such schedule.
It cannot be ruled out that though the opposition appears strident in its call for early elections "within 90 days" (only 46 of which remain), it may not rule out a back-door play for an interim, caretaker or even shared government arrangement, pending elections.
ZERO-SUM GAME
The opposition leader would be the first to deny any such option. For him, this is a zero-sum, political game of ALL or NOTHING. Having set his eyes on the oil bonanza, he would not settle for advice such as that once given by the late Prime Minister of Trinidad, Eric Williams, in another context that "half a loaf is better than nothing."
He would even ignore the more cautious but experienced "Jaganites" who would argue that "tactically and dialectically," the opportunity should be seized to strengthen national unity.
There is a credible suggestion for wider inclusive governance. Though based on diverse models and styled differently, it means the same thing – "Big Tent" or coalition politics.
There have been credible calls for power-sharing and a National Front Government (NFG). I count myself among the old but consistent advocates, foremost being Clive Thomas, Ralph Ramkarran and Lincoln Lewis. Recently, the idea re-surfaced in statements attributed to former Prime Minister Hamilton Green (GGG), former General-Secretary Clement Rohee (PPP) David Hinds (WPA), and Henry Jeffrey (ANUG).
After a stalemate on the issue of shared governance at the 2002 PPP congress, then leading executive Ralph Ramkarran had called me and asked that I should look at page 22 of the revised party programme.
SHARED GOVERNANCE
I had previously worked on its revision, mainly to strengthen commitment to the formation of a government of national unity and to moderate excessive and dogmatic references to Marxism-Leninism.
When I looked at the page I saw that the commitment was diluted and rendered vague. It did not say unity with whom, but unity for certain set goals. I felt totally betrayed.
In an effort to effect a compromise, a declaration of sorts was issued afterwards to address the "unity with whom" factor, which unity was conditional to achieving "trust." That effectively killed the internal movement towards shared governance specifically between the PPP and the PNC.
After the opposition tabled a vote of no-confidence in the National Assembly, I told the opposition leader that whatever the outcome, it would derail any possibility of shared or inclusive governance. I had argued that two factors had immediately favoured national unity — the aggressive posture by Venezuela, and the need for full social inclusion to share in the benefits of the oil and gas sector.
It would seem that since then another factor has surfaced, that is, the need for constitutional reform. To achieve reforms there is need for a Long Parliament/Government, for which there is precedent, as follows:-
– Elections due in 1978 were held in 1980 under a new constitution;
– Elections due in 1990 were held in 1992 after electoral reforms, styled the Carter Formula, were introduced.
STATESMANSHIP
Those might be objective conditions, but the subjective factors weighed heavily against the PPP in early elections. Premature elections hold no guarantee that the outcome would not be a repeat of 2011, when the PPP lost its majority in Parliament; and of 2015, when it suffered outright defeat.
It knows that claims of a "landslide" at the November local government elections have been exaggerated. Its support peaked in its traditional Indian constituencies at less than 40%. Its 122,000 votes, put in the context of the 2015 voter turnout, would give the PPP about 30% of the popular vote in fresh polls.
It has other fears such as an irreparable division between "Jagdeoites" and "Jaganites" in the PPP leadership over the Irfaan Ali anointment. Any fallout would be fatal to the "all-or-nothing" obsession.
The period ahead therefore would require astute leadership and statesmanship hitherto never seen in Guyanese politics. It would demand the surrender of short-term opportunistic gains for an embrace of the goals towards national unity.
(Based on the recent address to the AFC's National Executive Conference)
February 3, 2019.