– Says legalisation will not be done in 'haphazard' manner
GUYANA'S newest political party – A New and United Guyana (ANUG) – has said that it supports the legalisation of marijuana but should the party gain power, it will not pursue legalisation in a 'haphazard' manner.
ANUG was officially launched on Friday, January 18, 2019, at the Moray House, Georgetown. Prior to that launch, founding member of the party, Timothy Jonas, had penned a letter to the editor indicating the party's support for the legalisation of marijuana in Guyana. He also noted that, "…. [ANUG] will do everything in its power to ensure that this is done."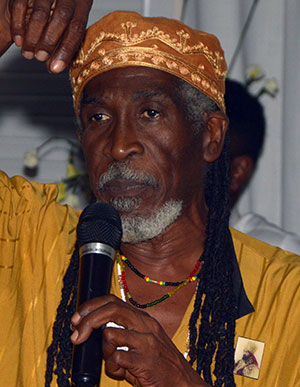 Jonas explained that his position and that of his party on legalising the 'herb', stemmed from cognisance of two problems in Guyana: The overload of the criminal justice system and, the extreme overcrowding, in appalling conditions, in the local prisons.
"One of the myriad causative factors [of these two problems] is our approach to marijuana offences," he wrote.
At the party's launch, Executive Member of the Guyana Rastafarian Council, Ras Leon Saul, questioned Jonas' and, by extension, the party's aim in stating their position on this issue.
"In [Friday's] Stabroek Newspaper, you did a whole lot of work on legalising marijuana but for the last three and a half years, I can't remember hearing or seeing anyone of you in the trenches representing marijuana… and I am wondering why you are being so opportunistic," Saul said.
Further, Saul questioned: "How will I guarantee that when you get into power that you will legalise marijuana?"
"…If a law is not fair, then we must not obey the law. Laws are here to serve us and to be fair. My view is that there is no moral stigma in doing what you do – and the law that says that you must go to jail for it is unfair," Jonas, who is an attorney-at-law, responded.
Jonas added that, in addition to the law being unfair, youngsters were being sent to jail and taxpayers' dollars were being used to house them in prison. Further, he noted that the criminalisation of marijuana was "…blocking up the criminal justice system and overworked magistrates were sending them [youths] into overcrowded prisons, in horrendous conditions."
"The small step of legalising marijuana possession and use would be celebrated by the majority in our society as the removal of a tiny mote of repression, and the lifting of an unfair aspect of the judicial system," he had said in his letter.
Additionally, he explained that the "overload" of the court system would be relaxed and the dozens of young people languishing in the prison system could be reprieved, while the cost of maintenance could potentially be reduced.
"Those youths could, hopefully, be returned to the society without the stigma of previous criminality," he said.
Another member of ANUG, Businessman Kian Jaboor stated that: "We're not haphazardly advocating for the legalisation of marijuana. There are lots of things that need to happen before we can even get to that stage."
According to him, the first step would be decriminalising marijuana.
"As we can see the trends across the world, we can see lots of countries and states are getting into the trend of legalising marijuana and we see the economic side of legalising marijuana. The social side is another very different situation," Jaboor said.
Before reaching to the stage of legalising, he said that an intensive system of education must be put in place for healthcare professionals, schoolchildren and students.
Addressing Saul's concerns of ANUG being "opportunistic", Jonas noted that he and other members of the party had only now begun speaking out because they had positioned themselves to take the risk of putting words to action and trying to make a positive change.
One citizen, Audreyanna Thomas, disagreed with ANUG's approach.
"There is no doubt that we definitely need to find a solution to the issue of our young people having criminal records due to marijuana (small amounts) related offences, but this must not necessarily be done through legalisation," Thomas said.
She contended that the position of ANUG, voiced by Jonas, was one that only considered the legal and economic spheres, but failed to integrate others, such as the sociological, psychological, inadequate safety nets, inter alia.
"What about addressing issues which lead our young people to resorting to the use of marijuana, whether as a way of trying to cope with life's challenges, or other? Our society and our young people are grappling with a myriad of other issues, some of which may lead to marijuana use," she said.
Though she agreed that young people were being criminalised for small amounts of marijuana, she said: "The issue has to be addressed in the wider context, beyond legalisation and the economic benefits of legalising marijuana."